Lake Travis has eight great restaurants and pubs accessible by boat. Below we've listed every water access restaurant/bar on Lake Travis. Hitting all eight in a day might be a chore, but feel free to group 2-3 of the venues together in a fun filled on-the-water pub crawl around the lake. Stop for drinks at one, food at the next and end the evening with some live music available at most all of the boat access venues.
We've got a Lake Travis boat rental partner running a regular Lake Travis Restaurant Crawl. Click the below banner for more information.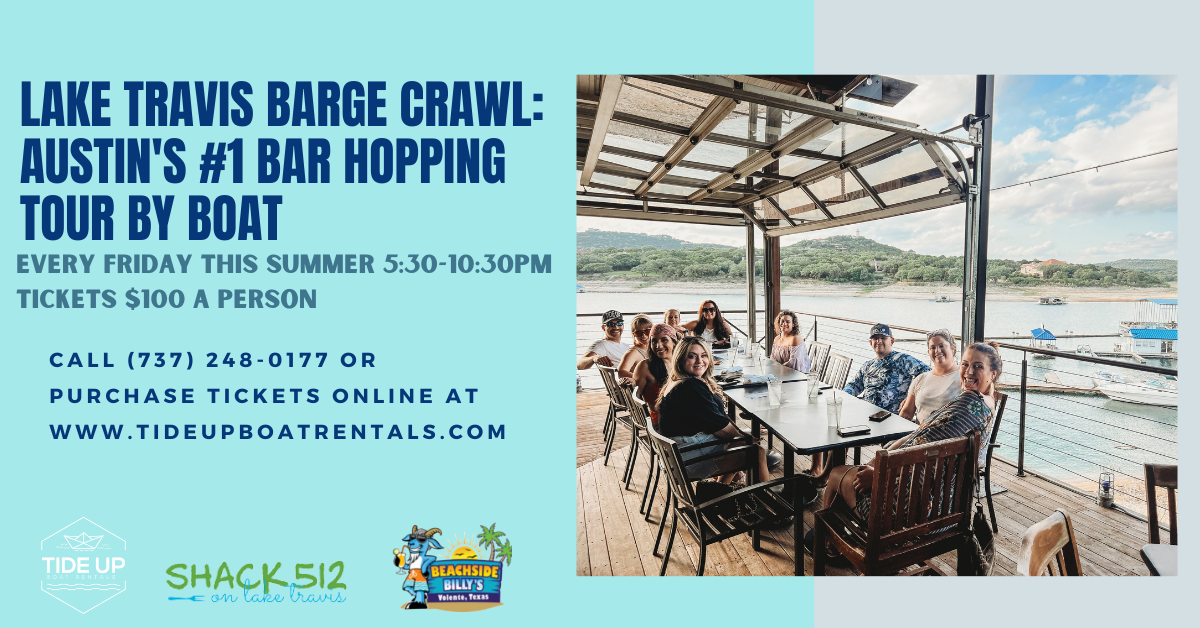 Here are all eight waterfront restaurants on Lake Travis. Click on the links we've provided to each venue to check out their Upcoming Events – happy hours, weekly specials and live music. Each restaurant page also includes a link to their menus. You can also visit our all-inclusive Upcoming Events Page to see all the happening on the lake by date. We'll start the fun at the Mansfield Dam Park boat ramp. Here we go…..
Vincent's on the Lake is a premier waterfront dining venue with some of the most spectacular views on Lake Travis! Located at the beautiful Emerald Point Marina, you won't find a better place drink, dine and enjoy the best local live music!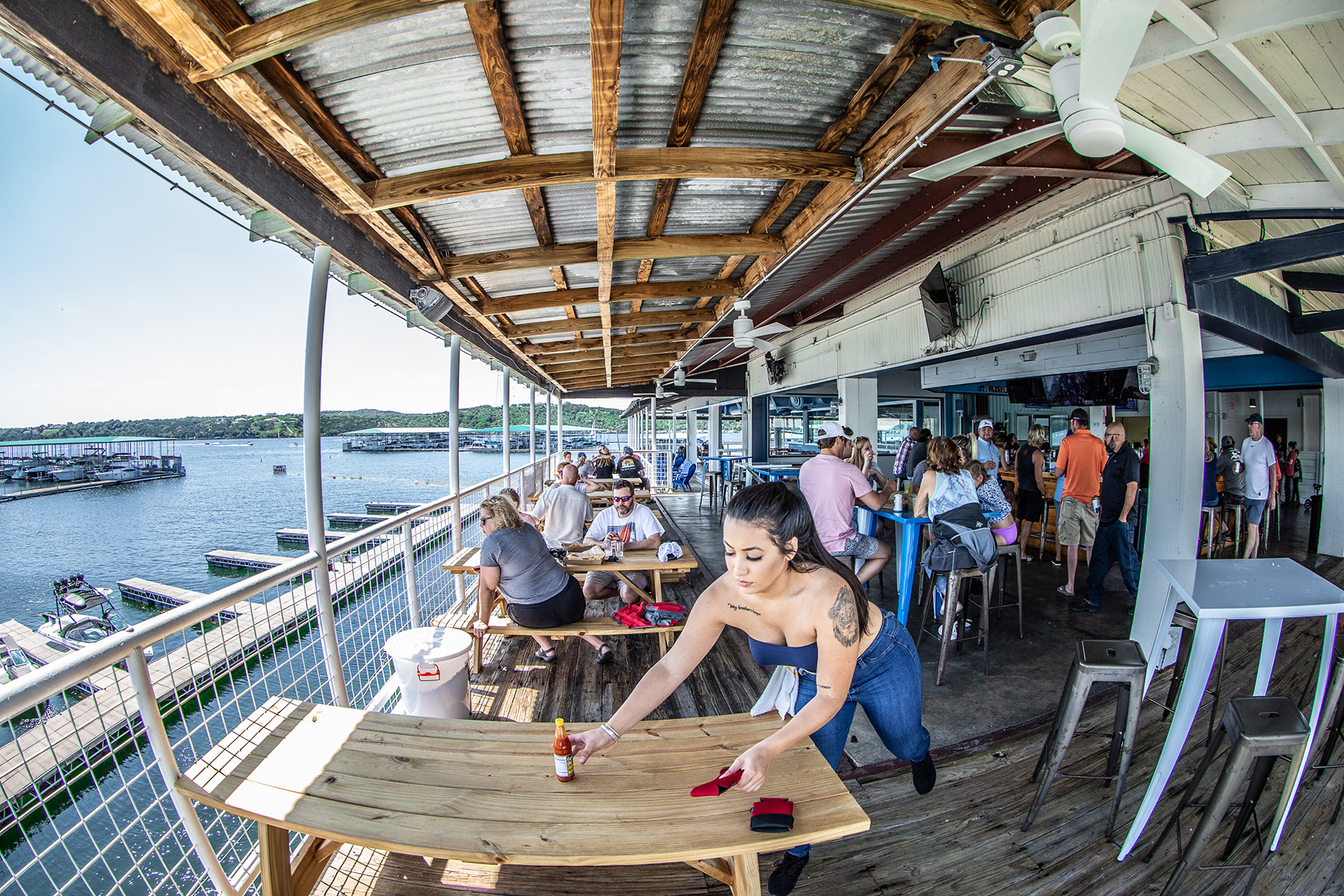 Where: 5973 Hiline Rd
Phone: (512) 777-3132
Web: Vincent's on the Lake
Access: Road & Boat
Related Links:
Best Lake Travis Boat Rentals
Lake Travis Vacation Rentals
---
From Mansfield Dam Park Boat Ramp it's 3.1 miles almost directly north past Windy Point (on your right) and then Starnes Island (on your left) to Volente Beach Resort and Waterpark. Here you'll begin to see the waterpark from afar. Pull in behind VIP Marina to the private docking for the restaurant. Volente Beach has great food, great service and a destination experience. Signature burgers, chicken sandwiches, fresh-made pizza, great salads, wings, or our mouth-watering entrees such as pan-fried snapper, Ahi Tuna or MMMac n Cheese. Great lake views full bar – inside and out – and live music.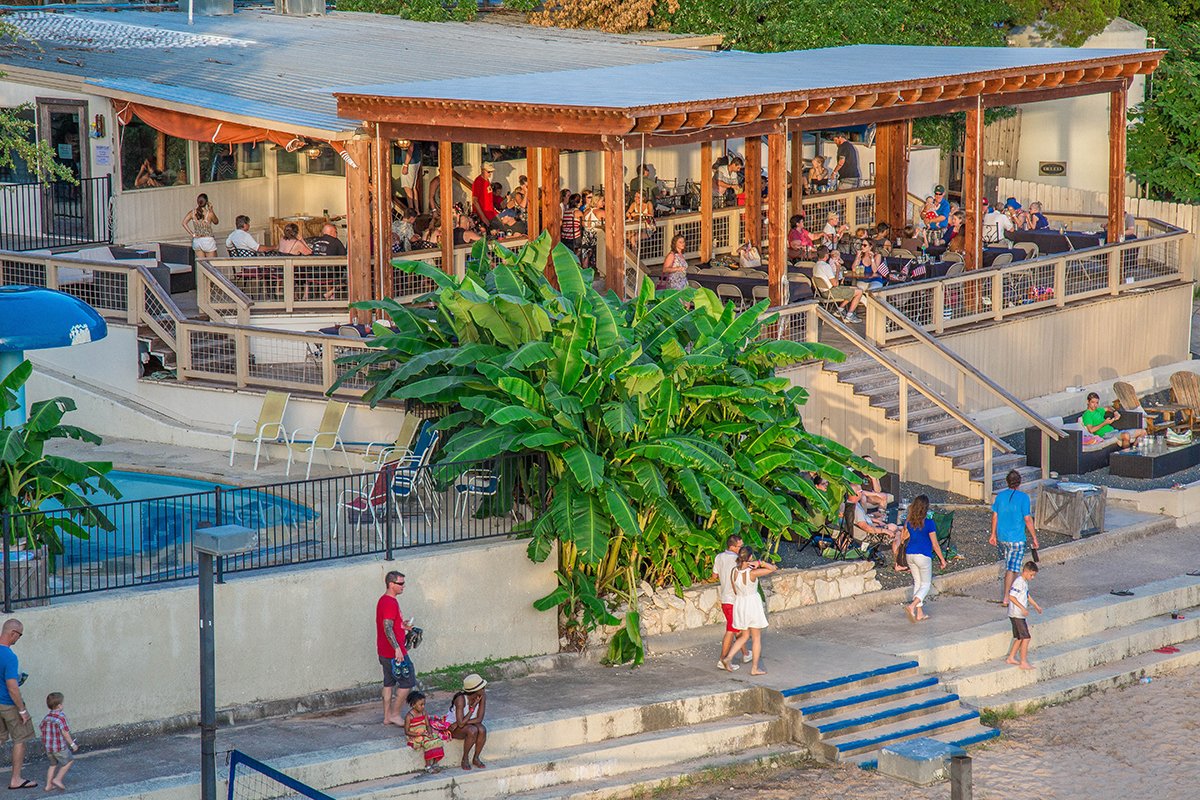 Where: 16107 FM 2769
Phone: (512) 258-5110
Web: Volente Beach Restaurant & Waterpark
Access: Road & Boat
Related Links:
Best Lake Travis Boat Rentals
Lake Travis Vacation Rentals
---
Captain Pete's Boathouse — Lake Travis floating restaurant, bar, and fuel dock. Now open in Point Venture, and accessible by land or by lake! Here you'll enjoy delicious food, cool cocktails, and of course… the best view on Lake Travis. Captain Pete's is sure to be your new favorite hangout. Operated by a team with years of Lake Travis restaurant experience, you'll enjoy a neighborly atmosphere and food you'll come back for again and again. Welcome to Captain Pete's Boathouse — "lake life done right."
Where: 18200 Lakepoint Cove, Point Venture, TX 78645
Phone: (512) 436-8640
Web: Captain Pete's Boathouse
Access: Road & Boat
---
From Shack 512 you'll traverse to the south side of the lake, where it's a bit over 5 miles southwest to the Hurst Creek Arm where you'll spot Sail & Ski Yacht Club & Marina and The Sundancer Grill. The private Sundancer boat dock is around to the right behind the restaurant. Park your boat at the courtesy dock, then call 512-266-2268 to get a short ride up the hill via golf cart. Sundancer Grill is a Lake Travis Restaurant with lakeside dining & boat access. A bistro dining experience with a casual lakeside atmosphere. Menu includes chef crafted salads, sandwiches, steak and seafood prepared with fresh ingredients. Sundancer Grill is open year-round at the Sail & Ski Yacht Club. Sundancer Grill is open for Lunch, Dinner, and Sunday Brunch.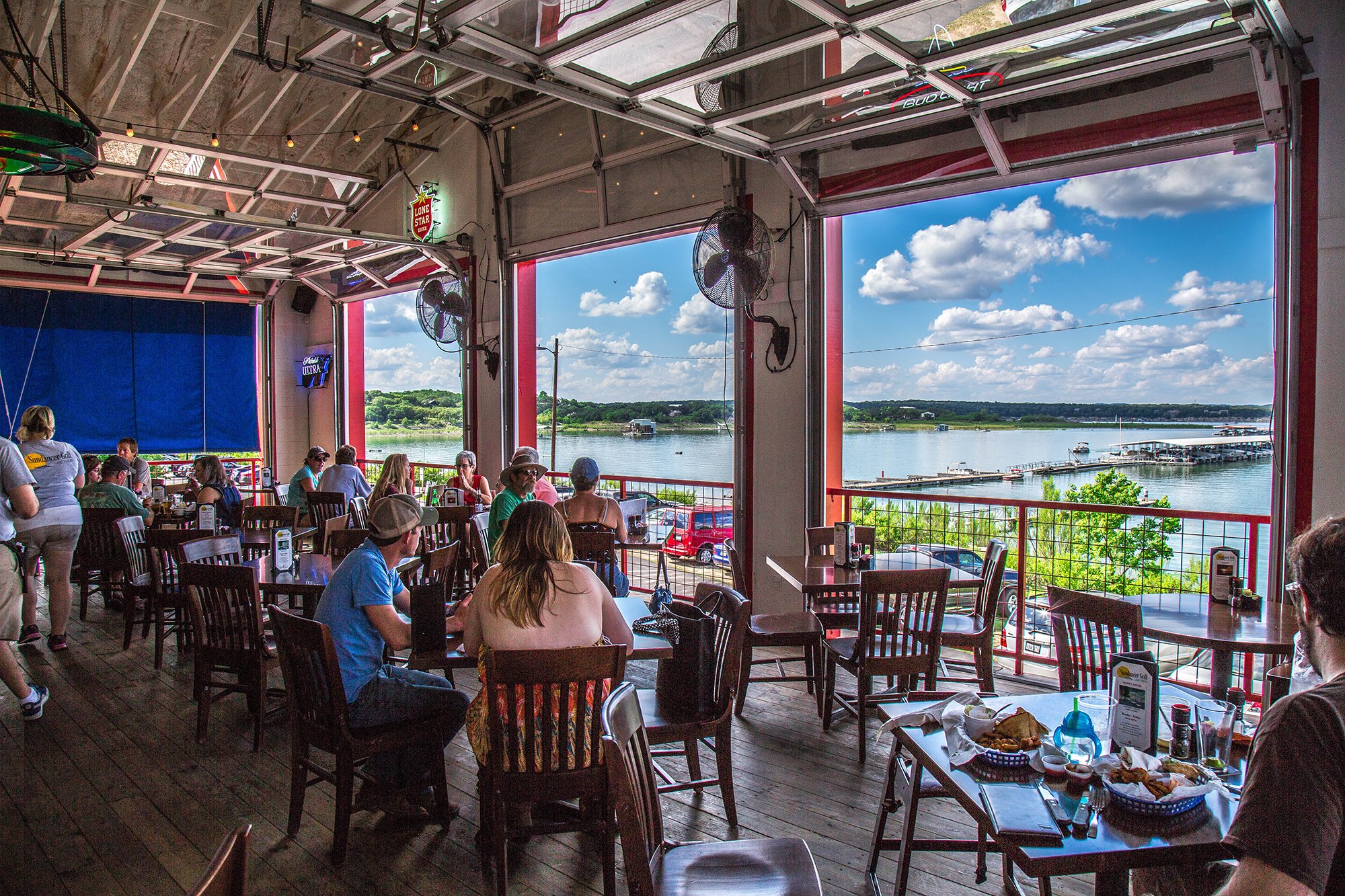 Where: 16410 Stewart Rd.
Phone: (512) 266-2268
Web: Sundancer Grill
Access: Road & Boat
Related Links:
Best Lake Travis Yacht Charters
Best Lake Travis Sailboat Charters
---
From The Sundancer Grill continue southwest down the lake to Lakeway Marina, just up the hill is the TR Restaurant Bar and Lounge at the Lakeway Resort & Spa. TR provides a rustic yet charming atmosphere with pristine views of Lake Travis and Texas hills. Enjoy a diverse menu of Southern comfort cuisine featuring breakfast, lunch and dinner entrées made from fresh local ingredients. Guest favorites include Steak & Eggs, Herb Marinated Grilled Chicken Breast, and Filet Mignon. Whether you are heading to the lake or coming back from the golf course, enjoy delicious food, an impressive marble bar, HD TVs and the casually chic atmosphere at our Lake Travis Restaurant.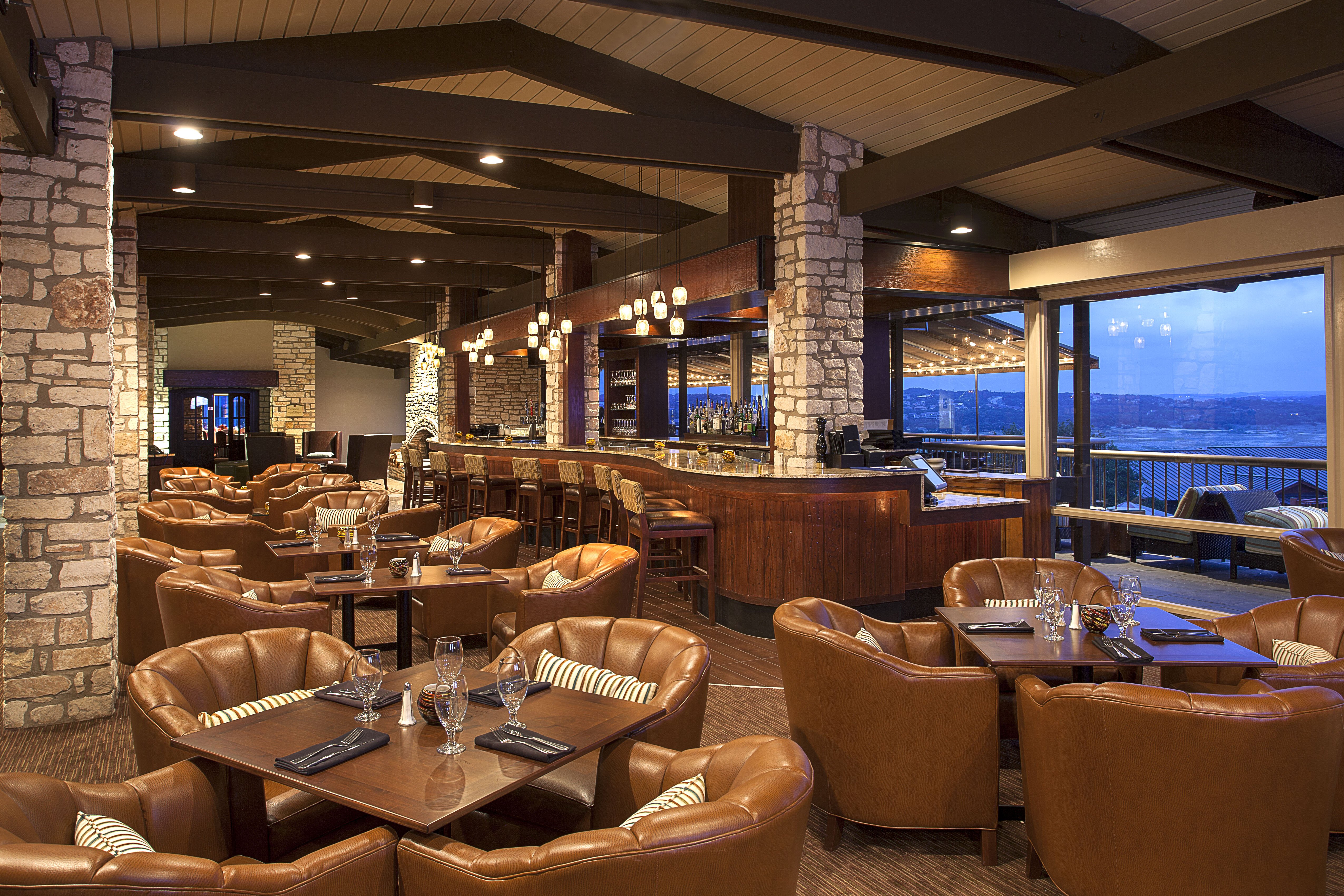 Where: 101 Lakeway Dr.
Phone: (512) 261-6600
Web: Lakeway Resort & Spa
Access: Road & Boat
Related Links:
Top 5 Things To Do On Lake Travis
Best Lake Travis Party Boats
---
From the Gar you'll continue southwest 1.90 miles back to the south shore of the lake to Rough Hollow Cove where you'll find perched above Rough Hollow Marina The Canyon Grille at Rough Hollow. Canyon Grille offers fantastic waterfront food paired with extraordinary views of Lake Travis, breathtaking Hill Country sunsets and plenty of live music. Come as you are to the dining room or spacious patio, choose from the wide selection of dishes, and relax as the experienced staff takes care of the rest. With an extensive wine list priced to please, dishes built to delight and divine desserts that will bring you nothing short of bliss, you truly can't go wrong.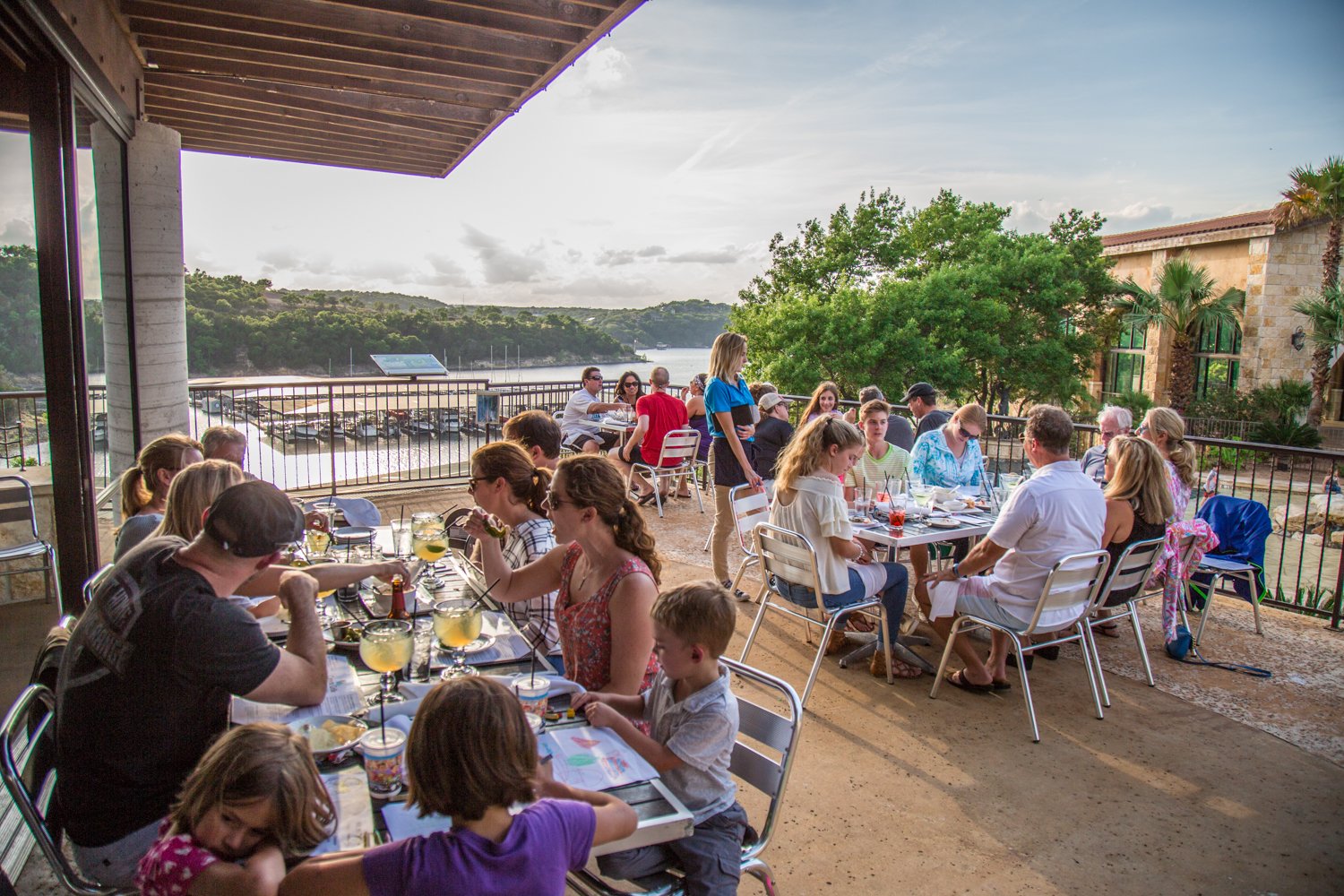 Where: 103 Yacht Club Cove
Phone: (512) 261-3444
Web: Canyon Grille at Rough Hollow
Access: Road & Boat
---
From Canyon Grille it's a winding 7.4 mile boat drive around Point Venture and The Reserve to the southern facing Cat Hollow Cove, Briarcliff Marina and The Lighthouse Restaurant and Lounge. The Lighthouse is a full-service Lake Travis waterfront restaurant serving classic American food with a warm and cozy feel and a relaxing atmosphere. Clean and sophisticated, kid-friendly with a relaxing coffee spot and occasional live music all in a stunning waterfront location. Come see us by car or boat via Braircliff Marina.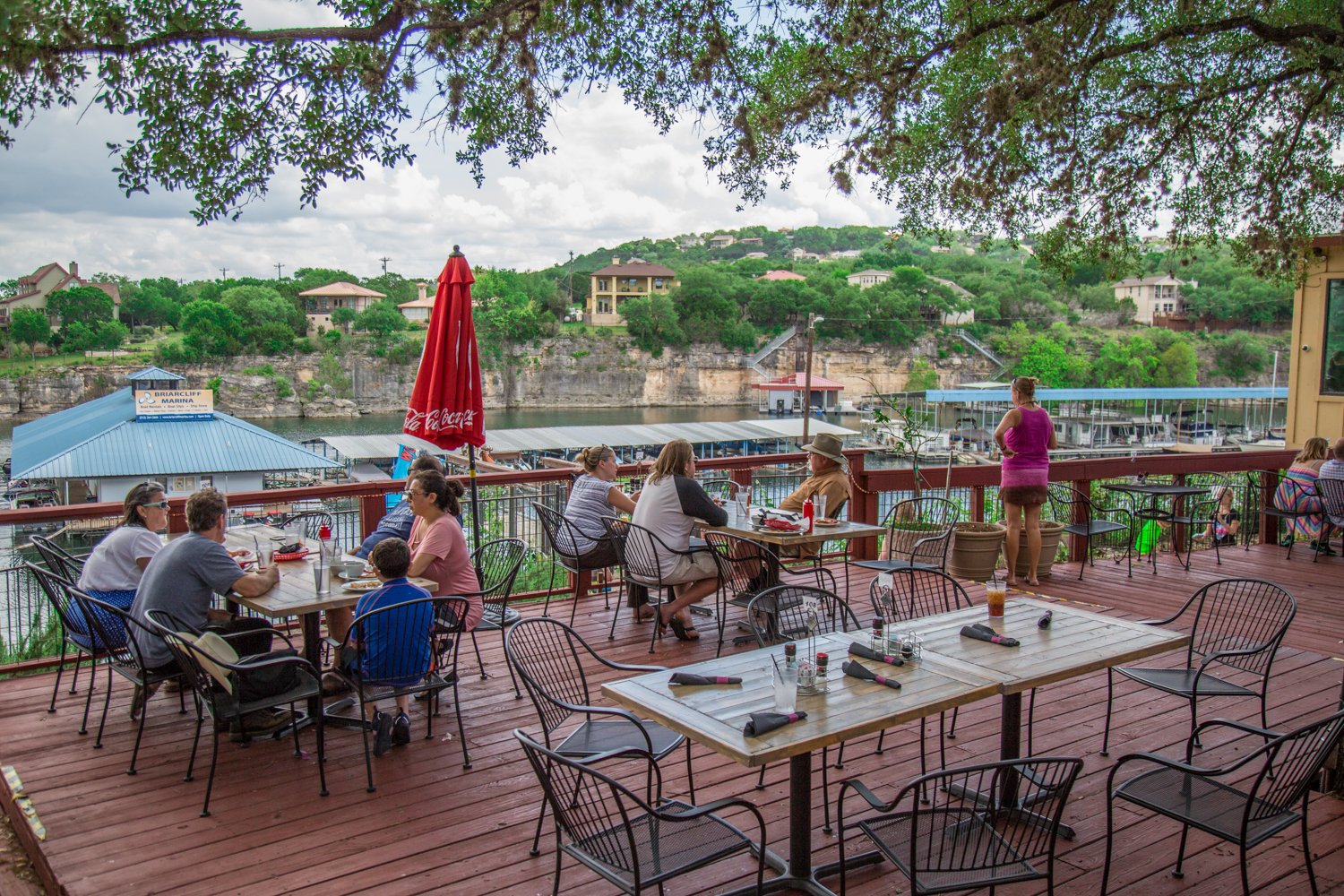 Where: 513 Sleat Drive
Phone: (512) 213-1313
Web: Lighthouse on the Lake
Access: Road & Boat
There they are…eight great food, drink and live music venues accessible by boat on beautiful Lake Travis. Drive safely, drink responsibly and have a great time on the lake.
---
Shack 512
From Volente Beach you'll continue north another 1.94 miles into the lake's northernmost Sandy Creek Arm, you'll see Sandy Creek Marina and the beautiful Shack 512 sitting out elevated over the water. Pull up to the courtesy dock and take the short ramp walk to the restaurant. Shack 512 offers American southern cuisine in a relaxed, beautiful Hill Country setting. A casual, outdoor venue, Shack 512 offers spectacular panoramic views of Lake Travis and the surrounding hills.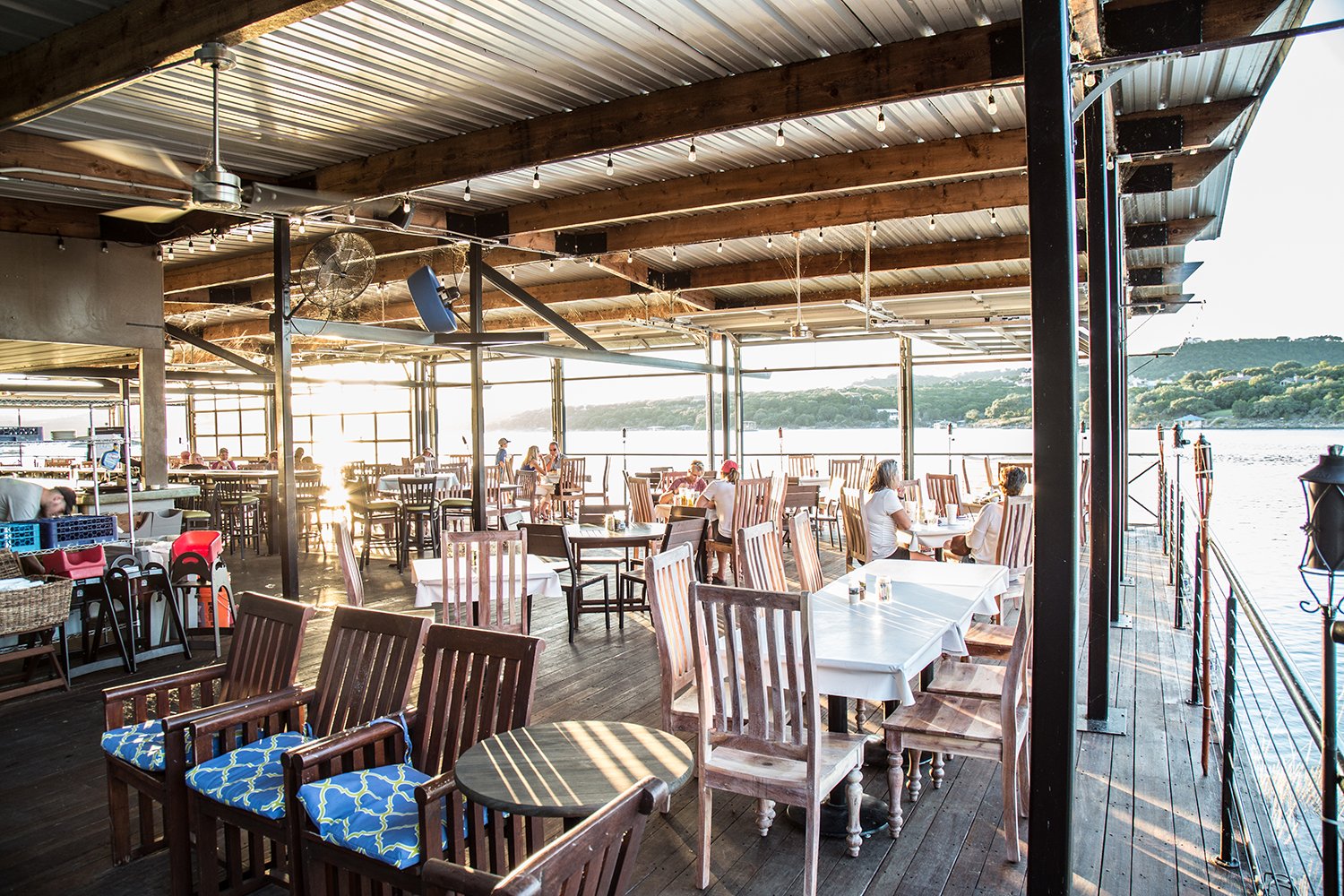 Where: 8714 Lime Creek Rd.
Phone: (512) 547-7610
Access: Road & Boat
Related Links:
Lake Travis Hotels
Devils Cove