Lake Travis' most familiar landmark archipelago, Starnes Island, was simply a hill in Travis County until the early part of the 1940's when Mansfield Dam was built on the Colorado River creating Lake Travis. Starnes is located in the Sandy Creek arm of the lake. The island is also know to some as Monkey Island, Rattlesnake or Snake Island and has become the go-to anchorage for most of the lake's Party Boat/Barge rental fleet. One of the opening scenes from Austin film director Robert Rodriguez's film "Spy Kids" was shot on Starnes Island.
Starnes is also a go-to diving spot for Lake Travis scuba divers. It offers a wall dive to depths beyond 100′ and a gradual sloping section with three boat hulls and a riding mower to explore. Many of the party barges on Lake Travis use the wall throughout the summer resulting in lost sunglasses, cell phones, hats and an occasional unopened beer, making this a treasure hunting dive. An easy dive for any level diver, don't miss the lady of the deep around 60′.
Related Links:
Lake Travis Party Barge Rentals
Lake Travis Vacation Rentals
Lake Travis Houseboat Rentals
Lake Travis Dive Shops
Starnes Island is also home to Lake Travis' biggest annual 4th of July Fireworks display currently presented by Beachside Billy's on the lake.
Related Links:
Lake Travis Independence Day Fireworks
Best Lake Travis Hotels
Lake Travis Vacation Rentals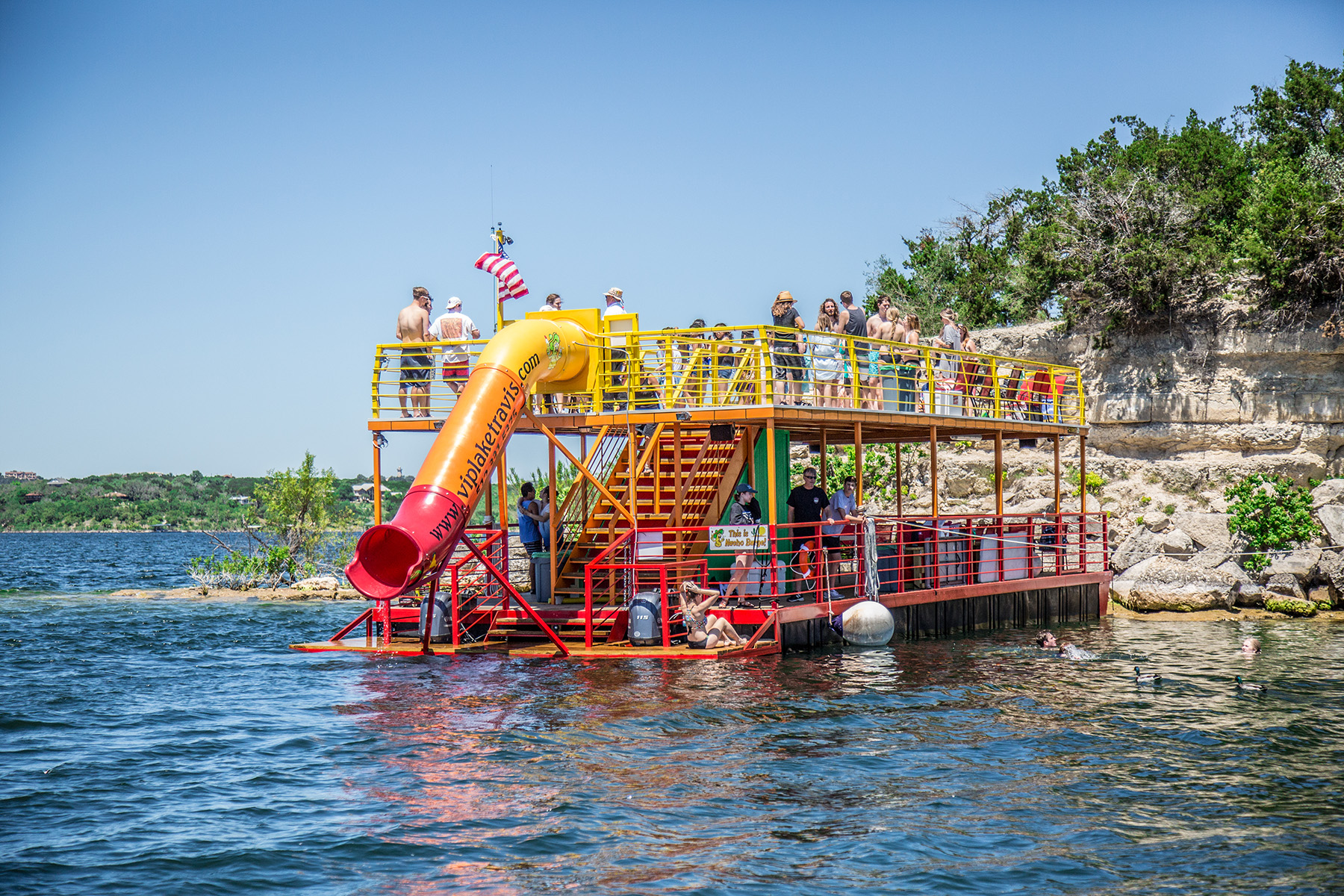 The Island's name…..
Starnes Island
Judge C. Rhea Starnes was a influential character in Texas politics in the 30's and 40's. He was an LBJ mentor and involved in the push for funding for Mansfield Dam along with Lyndon Johnson and US Senator JJ Mansfield. In 1947 the Judge bought the original Dodd home located at the corner of Lime Creek/ Volente Rd (still standing) and built the first large marina in Volente (now known as Highland Lakes Marina). It's been said Johnson received the blessing of the Texas Democratic elites to run for a US Senate seat in Judge Starnes' lakeside cabin in Volente. Judge Starnes would often entertain his politician buddies in the bungalows that are still in use in Volente.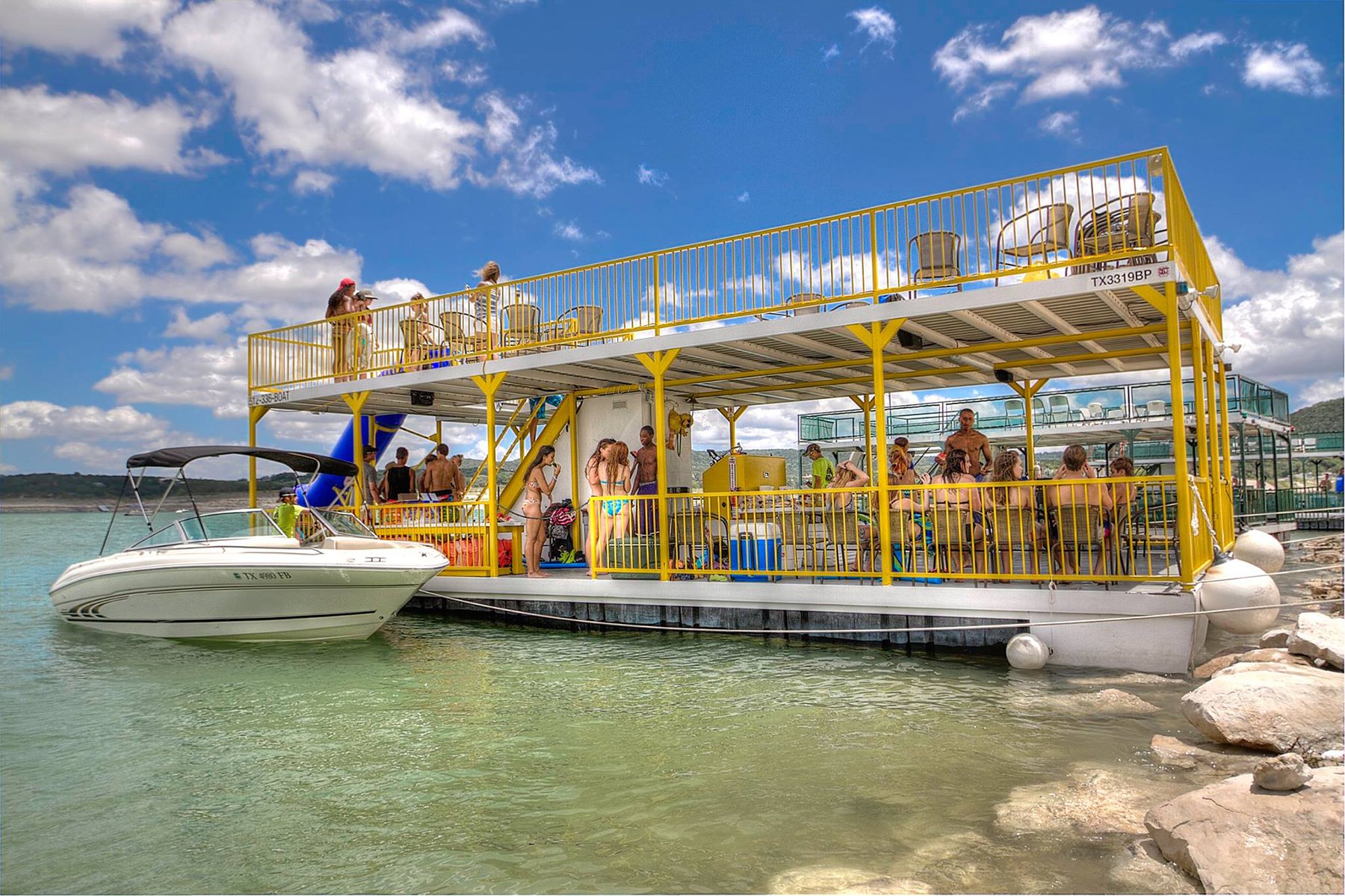 Rattlesnake Island
When the lake was first filled after the completion of Mansfield Dam the snakes in that area headed for high ground and supposedly the islet, when finally surrounded by water, was rife with snakes.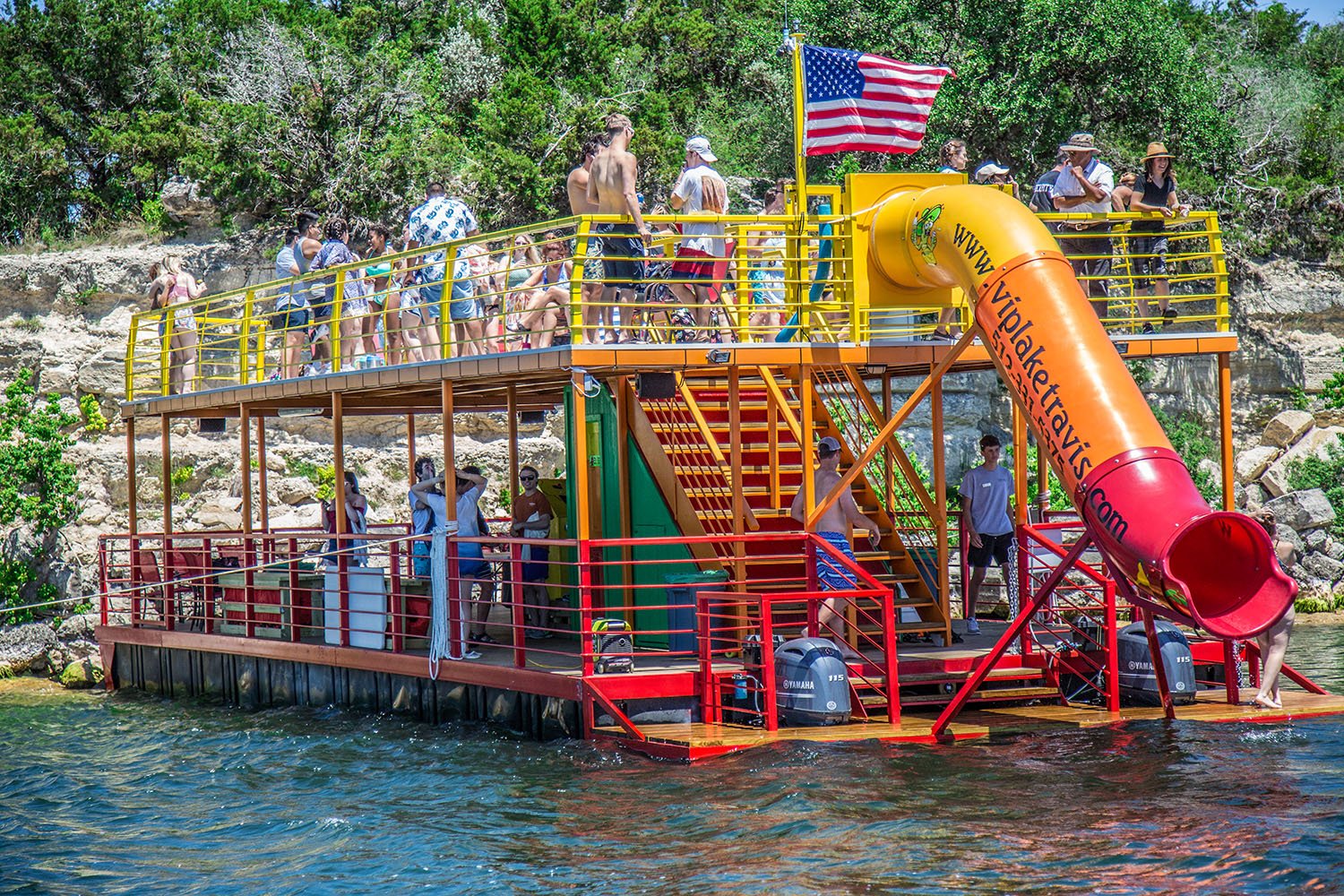 Monkey Island
In the 1970s, this was known as "Monkey Island". It's been told some lake local with a pet chimpanzee took the thing to the lake one day. It got out of the boat when they anchored at Starnes and was immediately untrackble in the brush. They never found the monkey.
Related Links:
Devil's Cove on Lake Travis
Lake Travis Boat Rentals
Lake Travis Vacation Rentals
Best Marinas on Lake Travis
Starnes is located here, just offshore from VIP Marina and Beachside Billy's Restaurant & Waterpark. Coordinates: 30°26'17″N 97°55'18″W
Check our our article on Lake Travis' biggest party cove Devil's Cove on Lake Travis. It's a Top 5 on-the-water party hot spot nationally.
Need a boat or Party Barge ? Check out our list of Lake Travis Boat Rental companies.
Ready to eat ? Check out an on-the-water boat access restaurant/bar nearby.
Need snacks, fuel, sunglasses or supplies ? Stop by one of the full service marinas nearby.