Here's our list of the Best Lake Travis Party Boats. Lake Travis has THE BIGGEST fleet of Party Boats & Barges in the state. No better way to enjoy the pristine waters than a ride out to Devil's Cove or Starnes Island with 20-50 of your closest friends.
---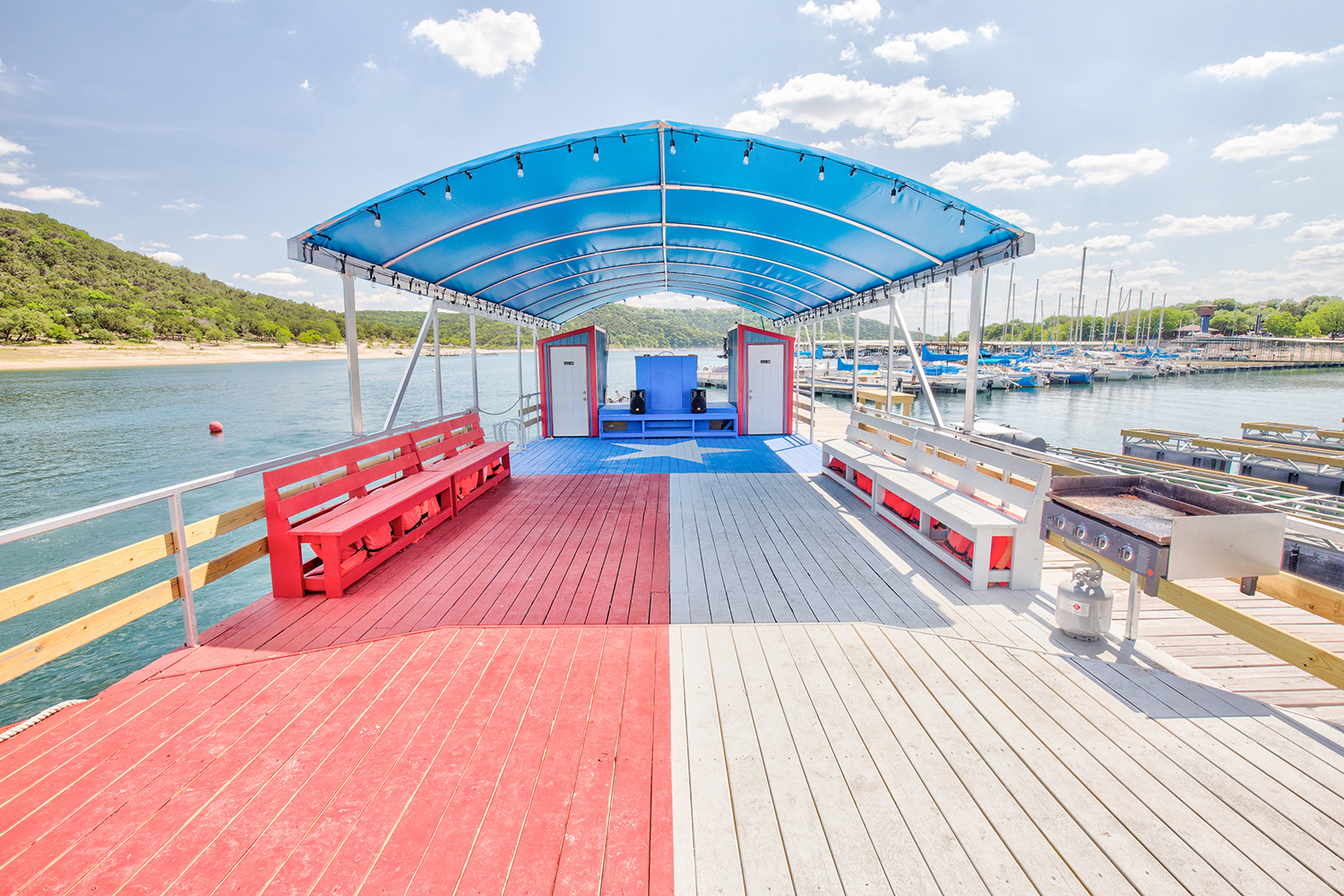 Premier Party Cruises is home to some of the best party boat rentals on beautiful Lake Travis, just minutes from Austin, Texas. We have two great party boats to accommodate up to 100 guests, each with a versatile, customizable layout that is the perfect venue for every event.
Premier Party Cruises has been providing Austin with top tier party cruise services since 2009, and is home to the best party boat rentals on beautiful Lake Travis, just minutes from Austin, Texas. We have 3 party boats with capacities of 14, 25, & 50, to accommodate groups of any size!
All boats are chartered by experienced, licensed captains to safely take you around the lake in style, stopping to swim as long as you like throughout your time on the water. These boats are the perfect venue for any occasion you can imagine! All boats come with a high-quality bluetooth speaker system, coolers, plenty of sun and shade, life jackets, lily pads, a clean restroom, plenty of seating, and a huge gas grill on the larger 2 boats.
Premier also provides a full suite of event planning services, to help you put together the ultimate day on the lake! DJs, photographers, lily pads, paddleboards, BBQ delivery, fresh fruit mimosa bar, whatever you need, we've got you covered!
Where: 13993 FM2769
Phone: (512) 710-9884
Web: Premier Party Cruises
Related Links:
Starnes Island on Lake Travis
Best Hotels on Lake Travis
---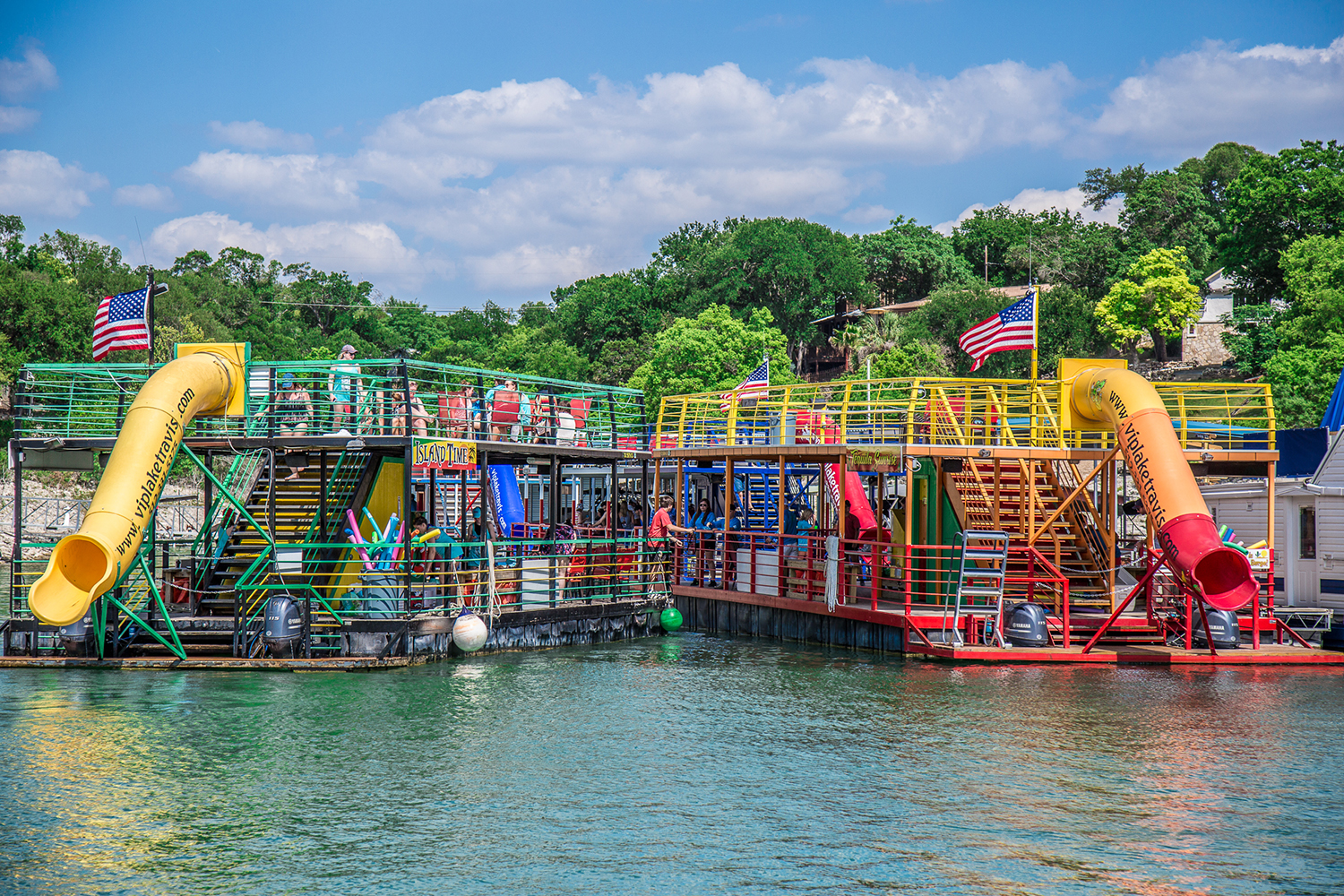 Come check out VIP Marina's four great Lake Travis party barges. Island Time, Tequila Sunrise, Lone Star and the Stars and Stripes all with water slides. Book your reservation now to have your party on the newest nicest party barges on Lake Travis.
Instead of hosting your next party at your home or in a reception hall, consider thrilling your guests with a Lake Travis party boat rental in Austin. On the lake, you and your group will have access to incredible views featuring hilly terrain, towering trees and blue skies all while enjoying the comfort of the party barge rental. As the day ends, the sun is likely to leave you with a memorable show when it dips down into the lake and creates a picturesque sunset.
Where: 16107 B FM 2769
Phone: (512) 331-5375
Web: VIP Marina
Related Links:
Lake Travis Vacation Rentals
Lake Travis Hotels
---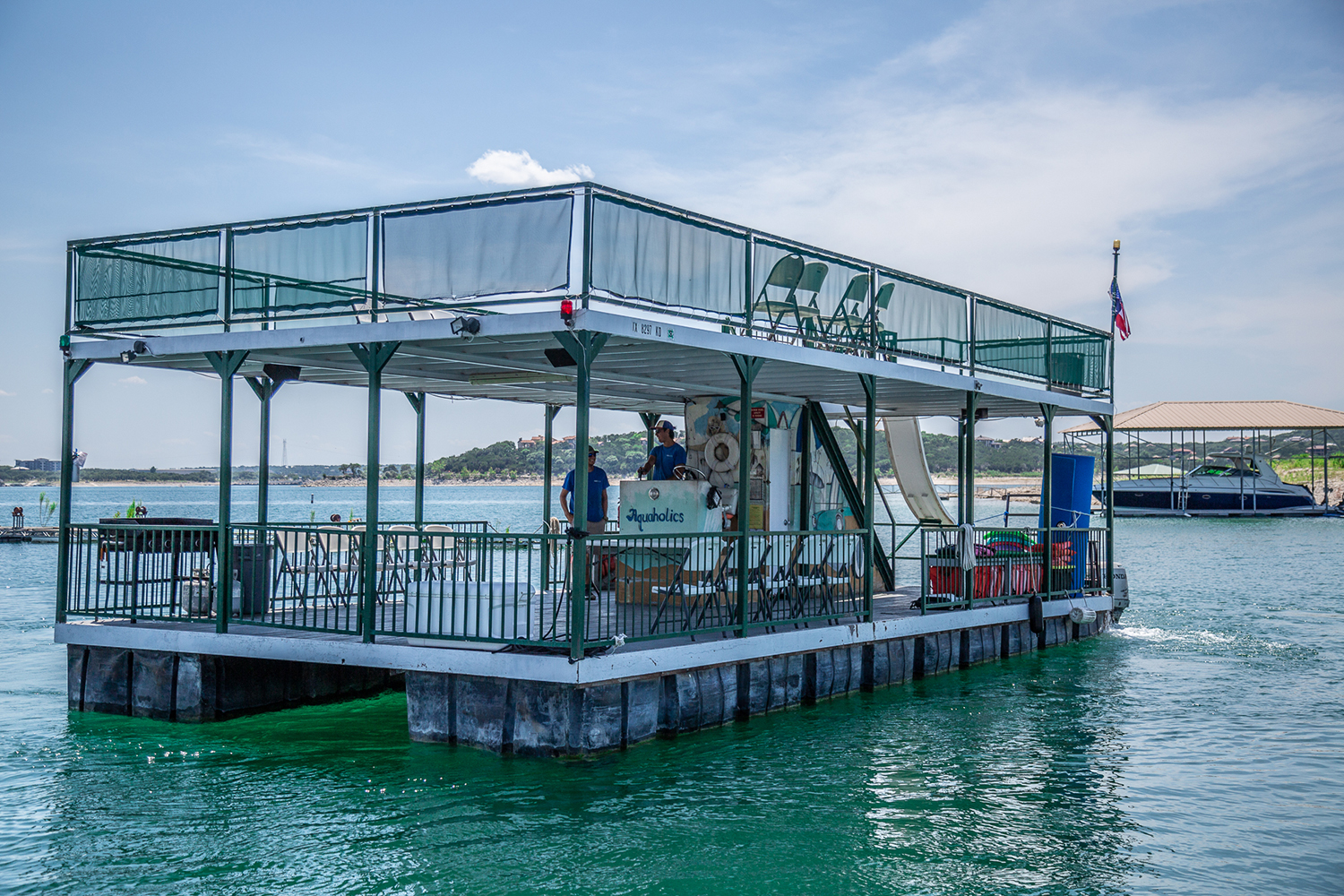 At Aquaholics we've got 3 great Lake Travis party boat / barges for your pleasure. With both single deck and double decker party boats we can service groups from 30 to 70 people. All parties will have a Captain and Crew Member(s) present on the trip. We supply the barge with two fold out tables. There is a slide (double deckers) and bathrooms on the boats as well. The barges are equipped with life jackets for everyone. You may bring your own if you feel more comfortable.
Where: 16209 Dodd Street
Phone: (512) 989-7838
Web: Aquaholics Party Boats
Related Links:
Best Lake Travis Yacht Charters
Best Lake Travis Boat Rentals
---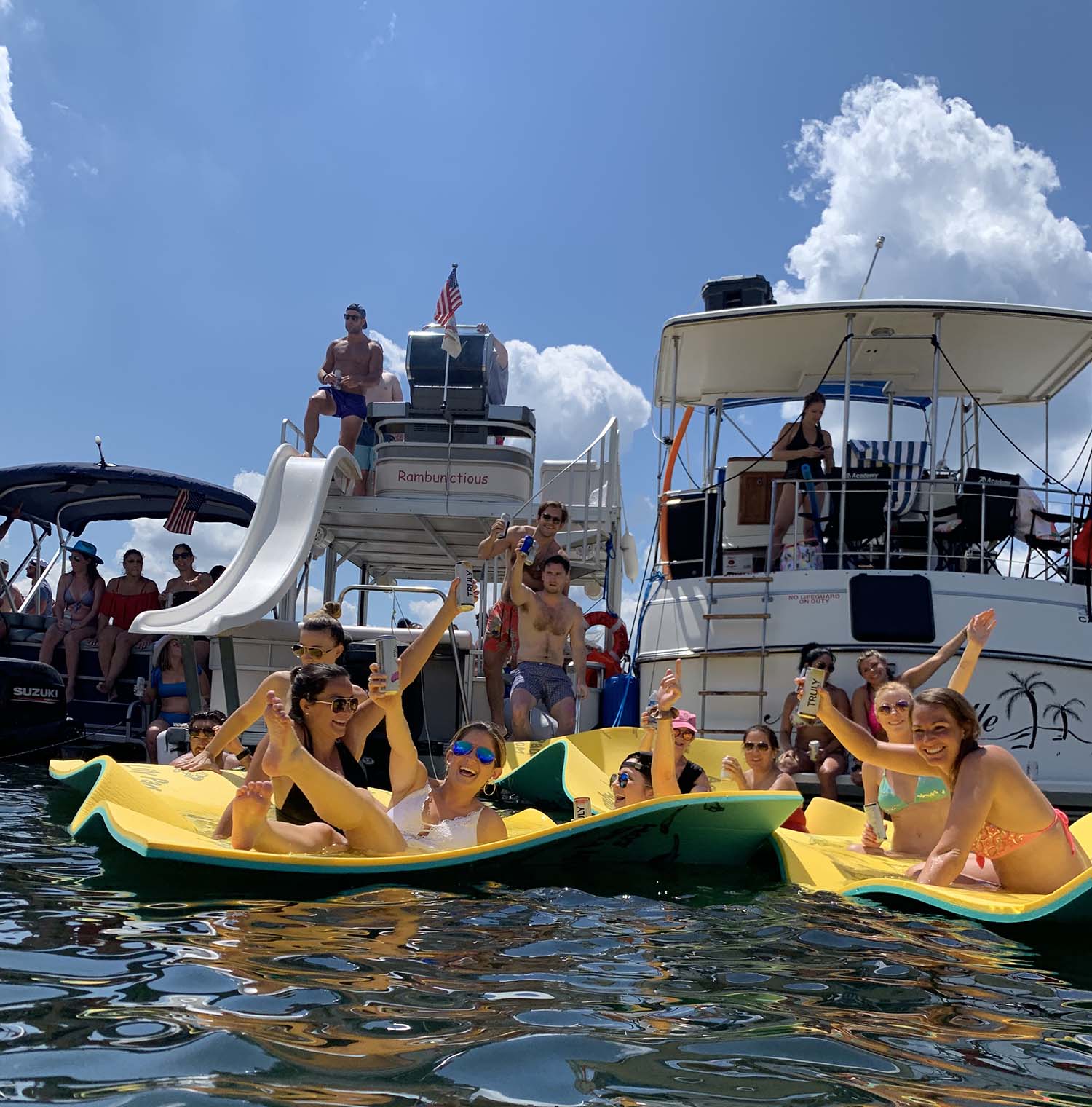 Lone Star Party Boat Rentals is a 5 star rated boat rental service on Lake Travis with over 100 5 star ratings! Rest assured you are booking with a company that will have your boat ready to go when you show up, a friendly captain, a clean and sanitized vessel when you step aboard, friendly well-trained staff that can help you on the phone or email to answer any and all of your questions, and provide you with the best possible day out on the water.
Lone Star also offers larger pontoons with water slides as well as Lily Pads, coolers, top-of-the-line Bluetooth sound systems for music, and they go to Devils Cove. Lone Star Party Boats know there's plenty of options to choose from when booking a boat for your special day, and that's why they take customer service and providing the best possible experience to their customers so seriously.
Where: 17141 Rocky Ridge Road
Phone: (512) 400-4434
Web: Lone Star Party Boats
S50
Related Links:
Best Lake Travis Lakeside Restaurants
Visting Lake Travis
---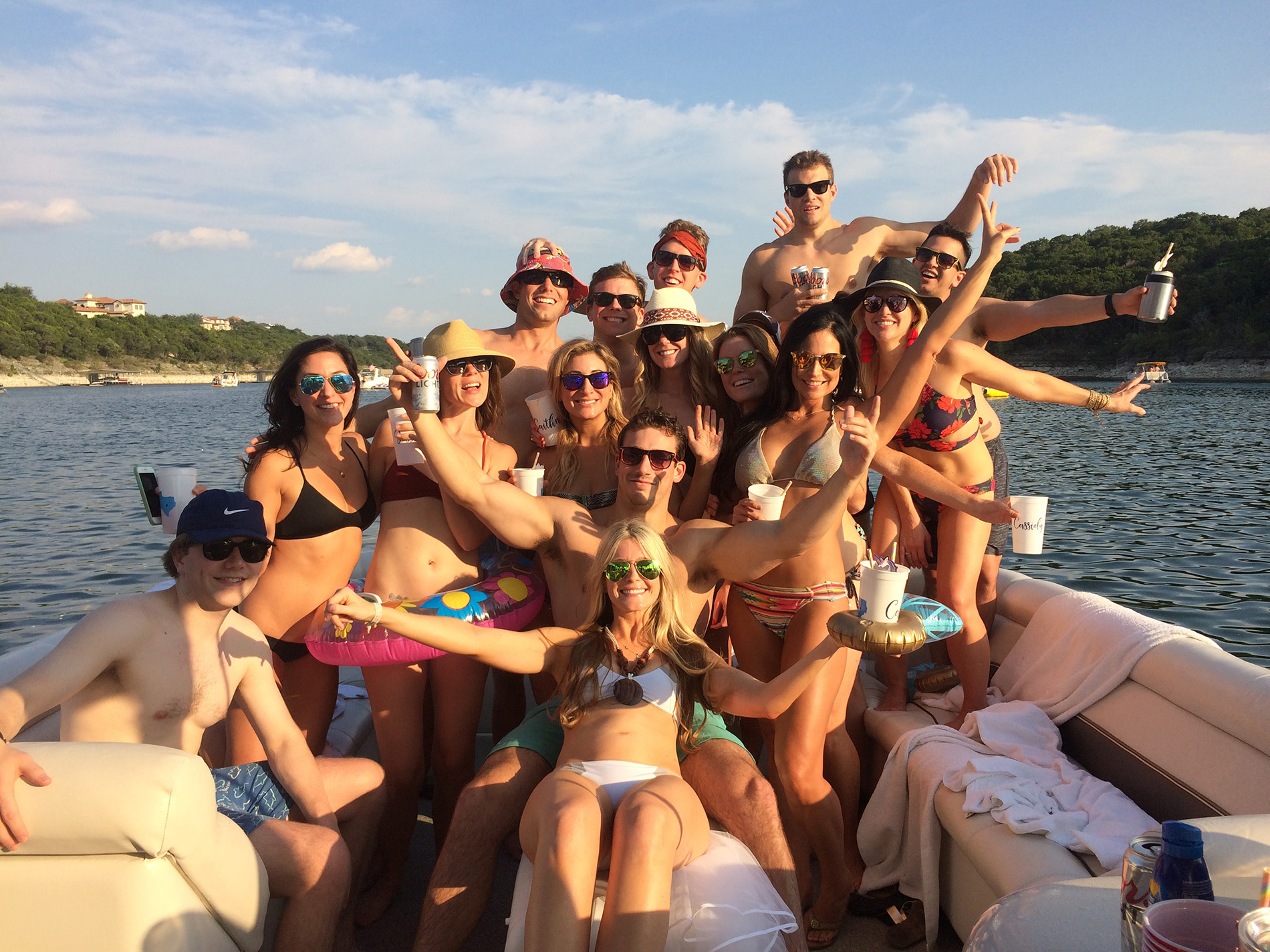 Good Time Tours provides the experience everyone is looking for on Lake Travis. Our services include a licensed Captain and a luxurious 20 person party barge. This includes a full grill, slide, restroom, and an extra large ice chest on board, 2000 watt stereo system with AUX plugins and LED light system for night parties. We can meet all of your party needs from the youngest to the youngest at heart. Parties include: birthday, graduation, bachelor, bachelorette, anniversaries, reunions and corporate events.
Where: Paradise Cove Marina
Phone: (512) 924-2911
Web: Good Time Tours
---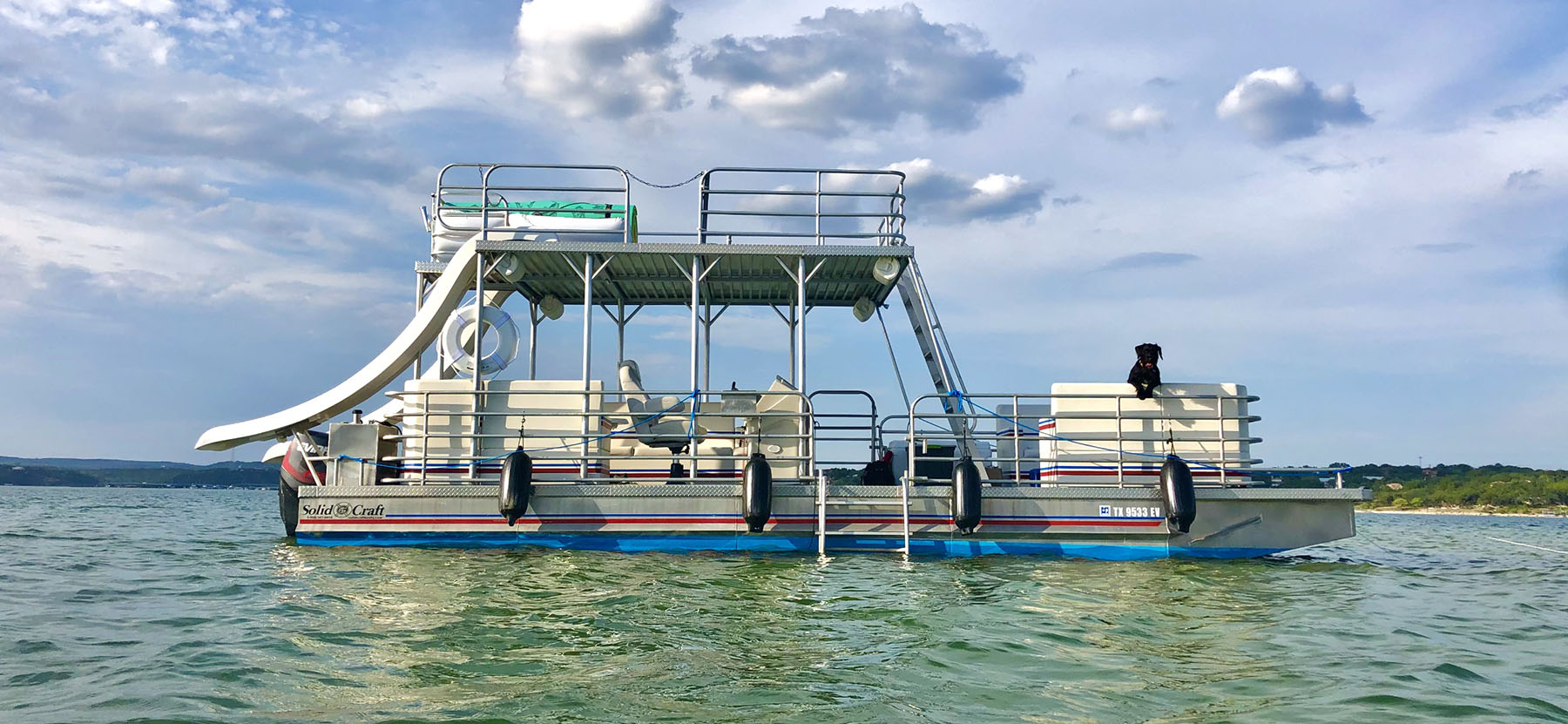 Party boat rentals in Austin, Texas. Servicing Lake Travis and Lake Austin. Come enjoy our late model, immaculately clean, double decker party boats. Our location on Lake Travis is a short drive from downtown Austin. Up to 25 passenger capacity. Each boat includes: Captain, 2 rear water slides, Lily Pad, XL cooler, premium bluetooth stereo and all fuel costs.
Where: 17141 Rocky Ridge Rd
Phone: (512) 400-4252
Web: ATX Party Boats
Related Links:
Top 5 Things to Do On Lake Travis
Best Lake Travis Boat Rentals
---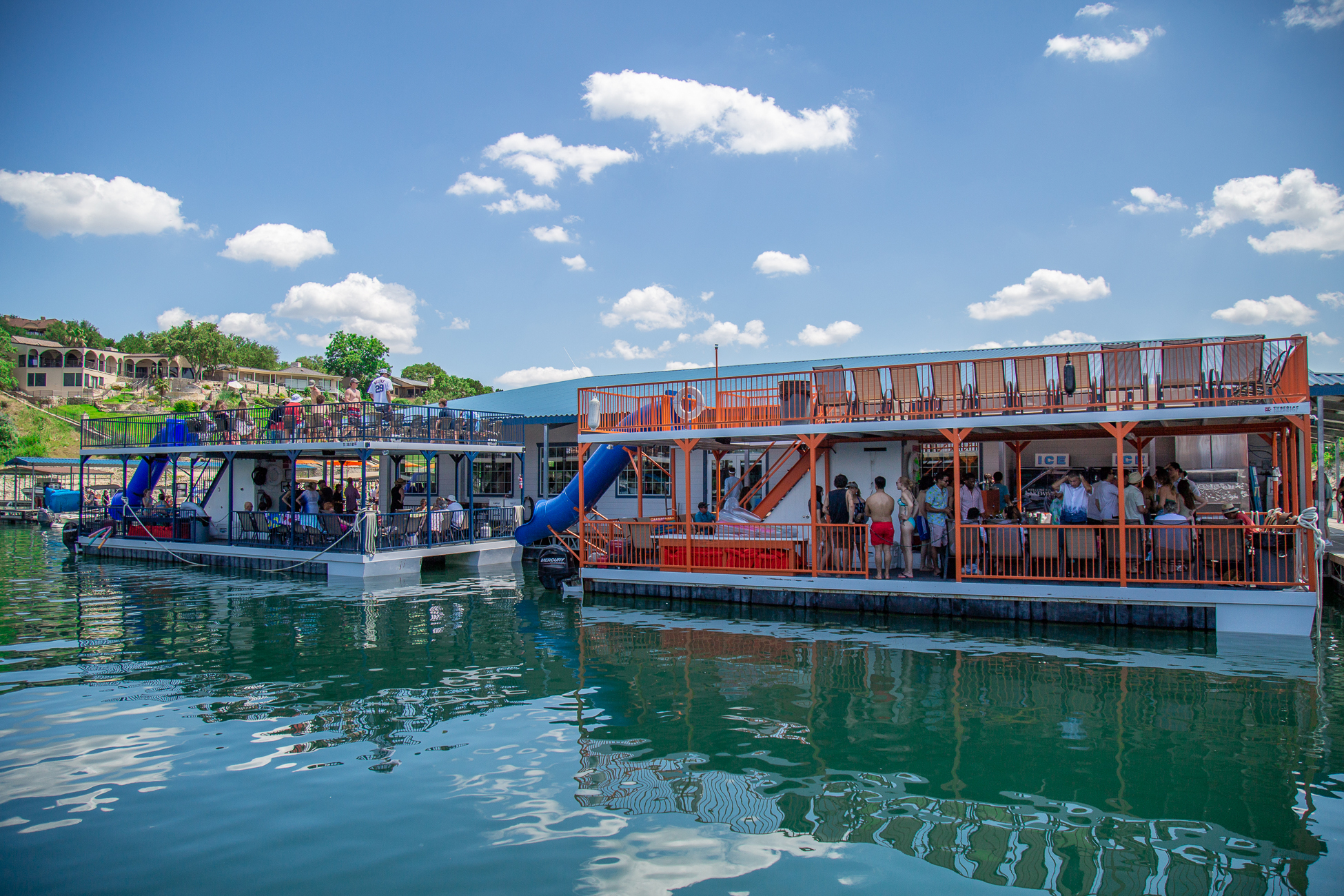 ATX Aquafun Party Boats at Lakeway Marina's two colorful party boats (Nemo and The Party Shark) stand ready for all your on-lake group entertainment needs. These boats have all the amenities you will need for a fun filled party on the lake. Restrooms, waterslides, propane BBQ pits, full CD stereo surround systems are just the basics on these barges. These boats will comfortably accommodate 50 people.
The boats are captained and crewed by experienced professionals that will make your day on the lake one to remember. Call (512) 261-7511 now to book your corporate outing, holiday event, or just a day on the water with friends. .
Where: 103 Lakeway Dr
Phone: (512) 261-7511
Web: ATX Aquafun Party Boats at Lakeway Marina
Related Links:
Starnes Island on Lake Travis
Best Lake Travis Lakeside Restaurants
---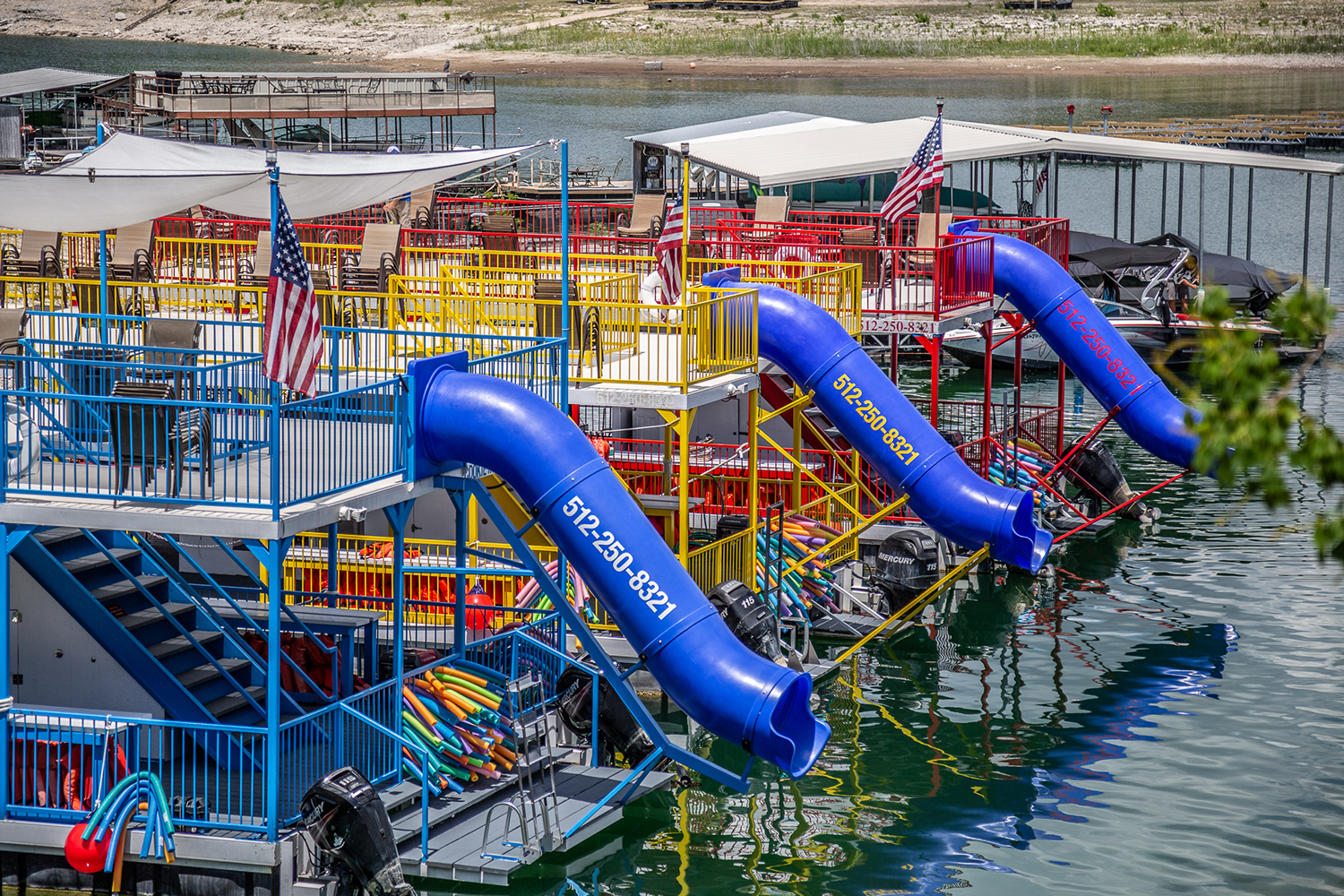 Enjoy a day on Lake Travis with us at ATX Aquafun Party Boats at Riviera Marina. Bring up to 50 friends and family members on one of our double decker party barges, Big Bird, Elmo, or Cookie Monster. We provide everything necessary for a great day in the sun. Our boats can hold up to 50 of your friends and family for a wonderful cruise on beautiful Lake Travis ! The Party Barges come with: large grill (we provide the propane!), great sound system (just bring your laptop/phone/MP3 player for music), adult life jackets (if you will have small children, please bring life jackets to fit them), noodles, 70 chairs, two 8′ tables, one 4′ ice chest, bathroom and a great tube slide (from 2nd level down to the water). Prices include crewmember charges, taxes and everything listed above-no hidden fees! Call today to schedule a holiday celebration, corporate event or just a day of fun with family and friends!
Where: 14297 Farm to Market 2769
Phone: (512) 250-8321
Web: ATX Aquafun Party Boats at Riviera Marina
Related Links:
Best Lake Travis Houseboat Rentals
Visiting Lake Travis
---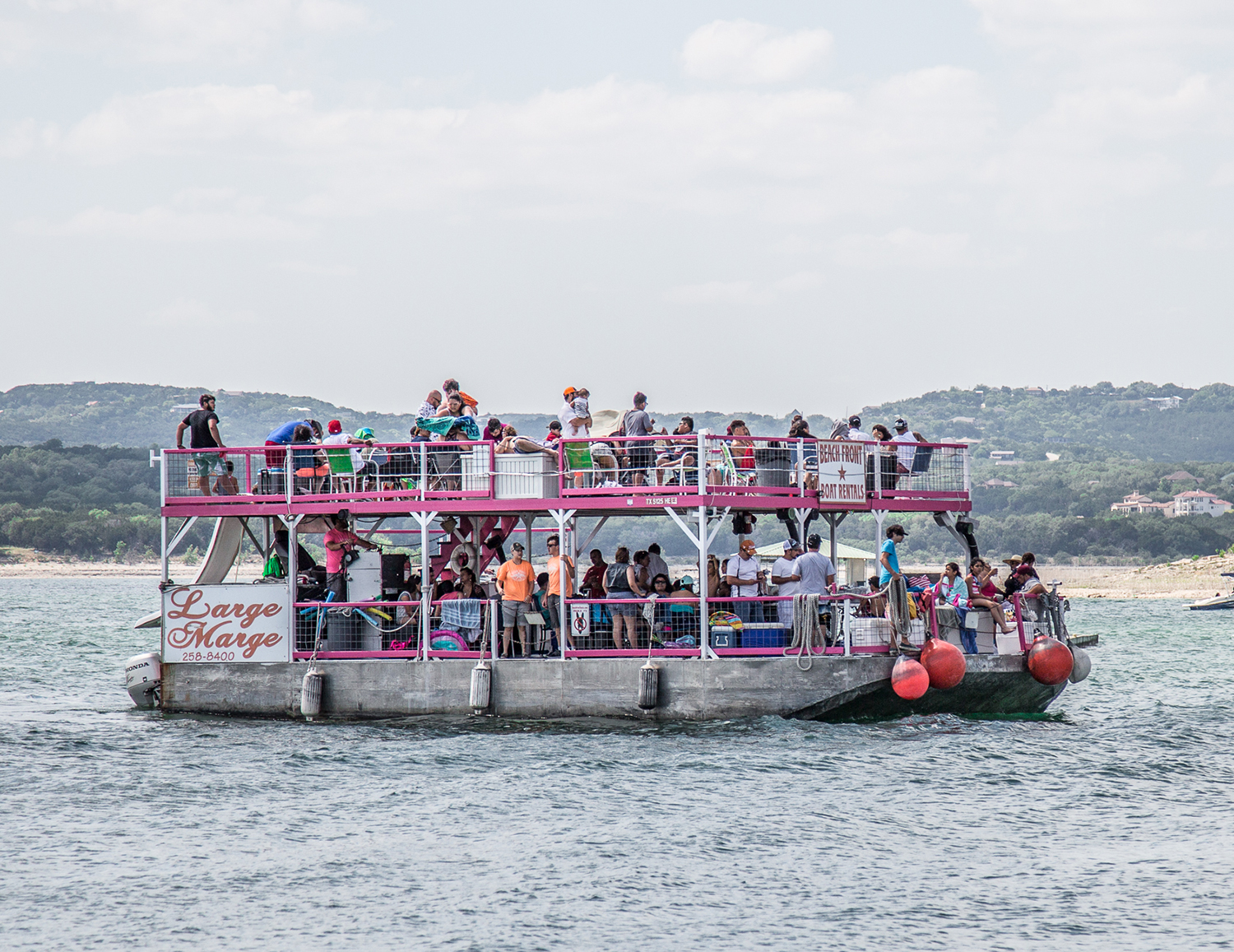 Beach Front Boat Rentals offers BIG party boats at the most affordable prices on Lake Travis. These custom-built, spectacular, double-decked, party boats carry 100 (Large Marge) up to 140 passengers (The Ark). Use the stereo system to play your favorite CDs. The giant gas grill is yours to use if you want to cook, or bring a caterer. Tables and chairs provided. There is a long swim platform and slide that is great fun! You can decorate the boat to match your event theme. And the captain will take your party or company event anywhere on Lake Travis.
Where: 16120 Wharf Cove
Phone: (512) 258-8400
Web: Beach Front Boat Rentals
Related Links:
Starnes Island on Lake Travis
Best Lake Travis Houseboat Rentals