We've looked at our site analytics. We've found the Top things to do on Lake Travis ranked by pageviews. We've said it before, Lake Travis is a BIG lake. It's 63.75 miles long, has over 271 miles of shoreline. It's also the the most commercially active reservoir in the state. It's crystal clear blue waters, it's proximity to Austin proper and it's status as a non Corps of Engineers lake (allowing private lakeside property), have it number one, by a long shot, in available recreation activities and lake related businesses. While Austin locals eventually find and bookmark the "go to" spots and activities on the lake, we find may prospective visitors are almost overwhelmed by the options (and the options within options) available for fun on Lake Travis.
Here is a somewhat scientific list (based on our site's pageview numbers) of the Top 10 Things To Do On Lake Travis.
Get Wet at Lake Travis Waterloo Adventures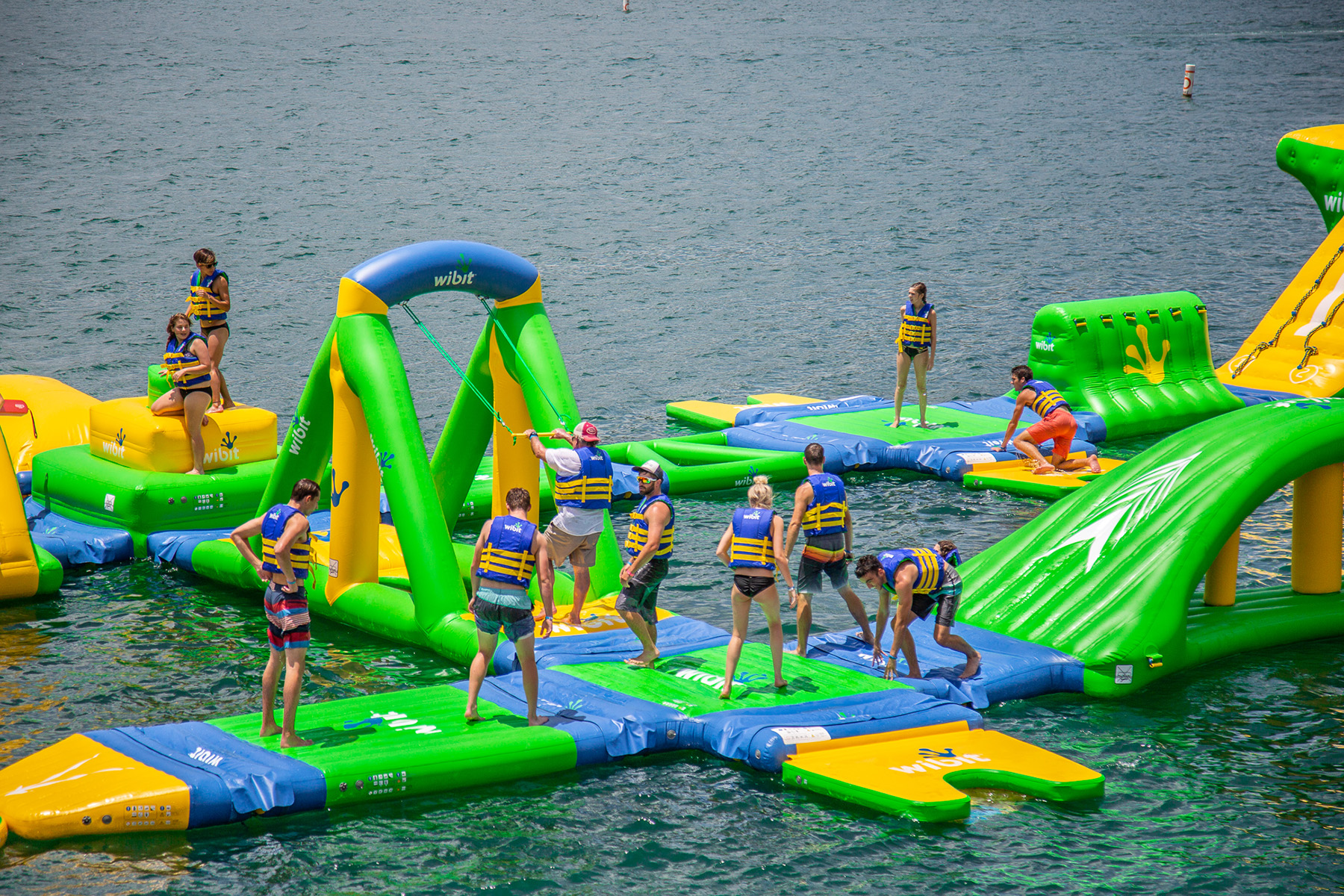 Waterloo Adventures is an on-the-water Lake Travis waterpark and challenge course. Located on the eastern shores at the lake, Waterloo features a 600 foot water playground offering more than 20 obstacles, including climbing walls, monkey bars, slides, hurdles, balance beams and bridges. The park is adjacent to it's sister park Lake Travis Zipline Adventures.
You begin your adventure with a boat ride to beautiful "Adventure Island". Once on the island, enjoy a 45 minute pulse pounding session on the 600 foot state-of-the-art challenge course. Admission includes the boat ride to Adventure Island, 45 minutes on the floating obstacle course, followed by unlimited access to Adventure Island, which has a free fall slide, springboard jumping tower and 24-foot wide trampoline. Adventure Island also offers food and beverages, including wine, beer and frozen drinks.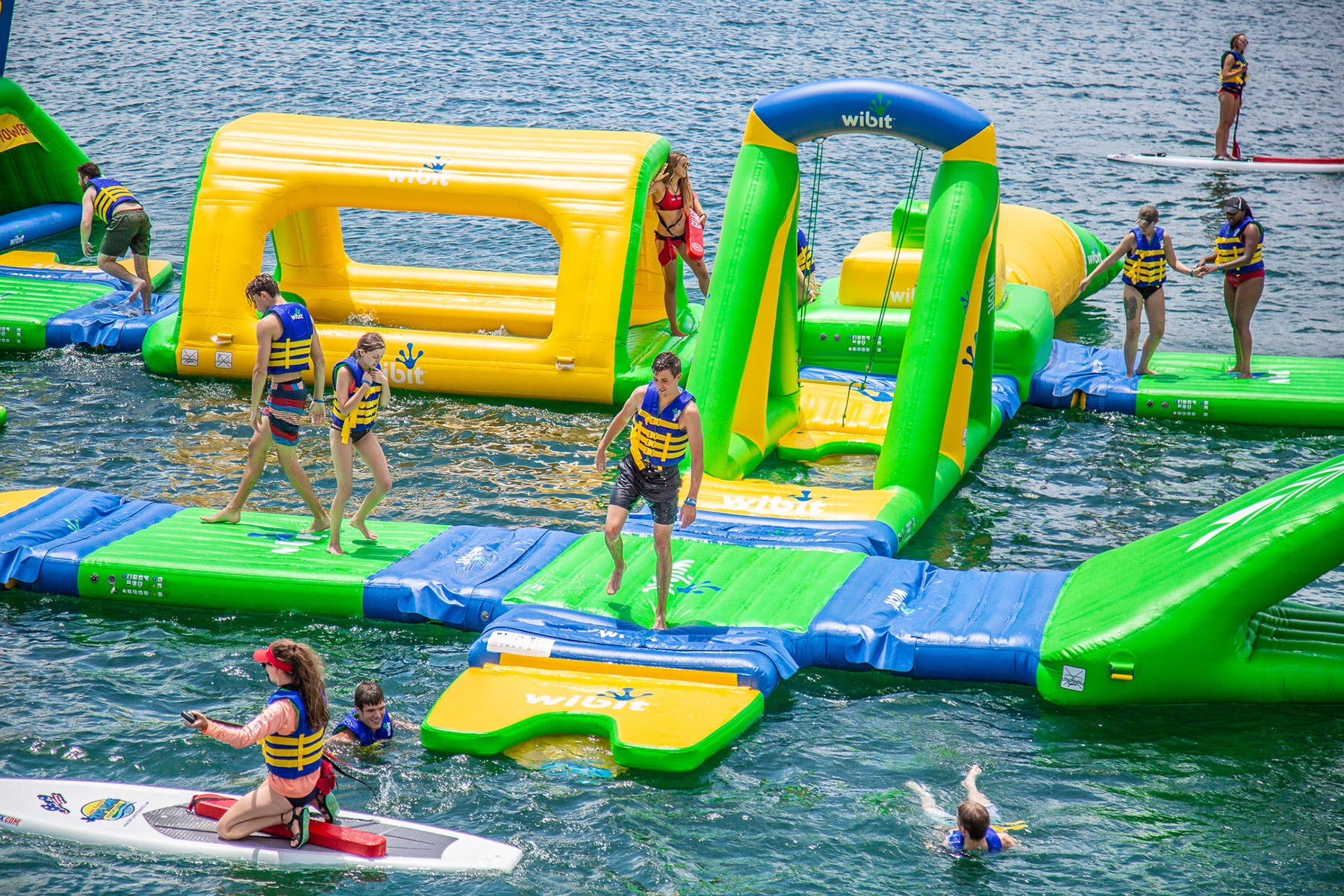 Location: 14529 Pocohontas Trail
Phone: (512) 614-1979
Web: Lake Travis Waterloo Adventures
Related Links:
Lake Travis Golf
Lake Travis Wineries
Lake Travis Craft Breweries
---
Go Flying at Lake Travis Zipline Adventures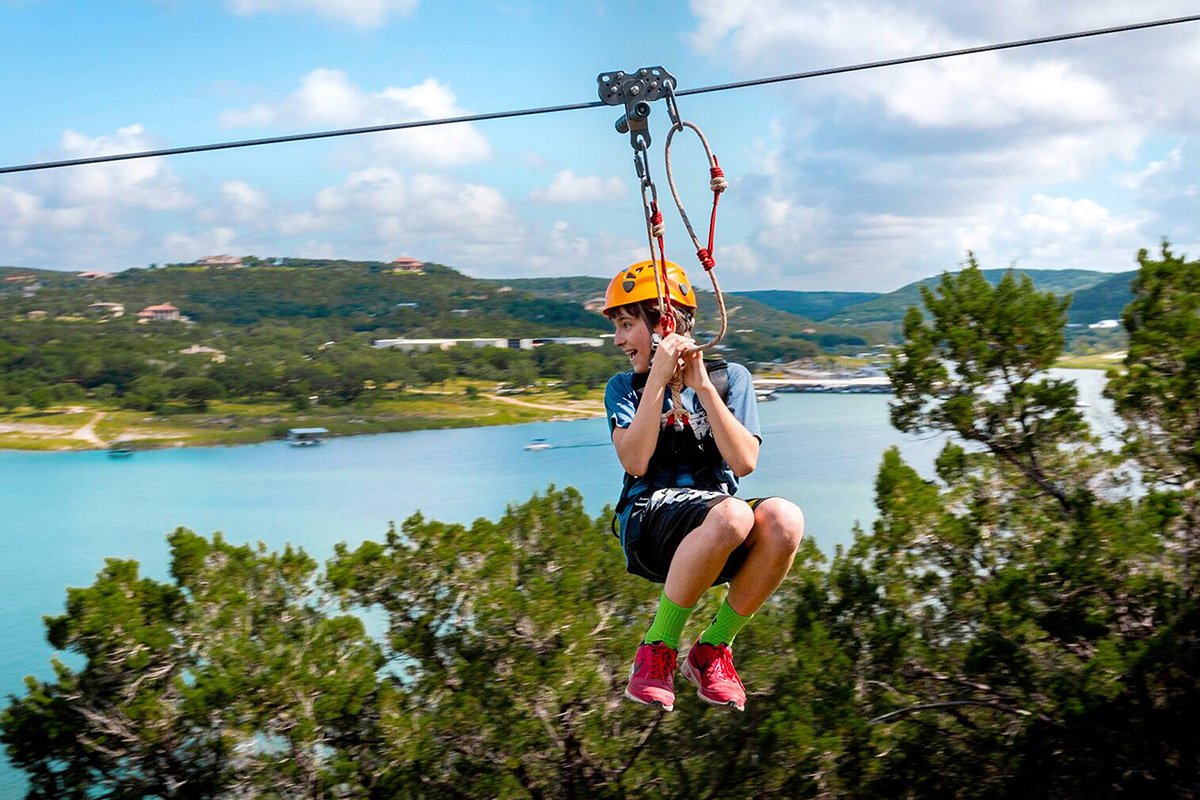 Located on the north shore of Cypress Creek Arm of Lake Travis, Lake Travis Zipline Adventures has 5 zip lines ranging from 250 feet to the longest zipline in Texas – over 2800 feet. It is the longest and fastest zipline in Texas. While waiting between each zip, you will enjoy amazing views of Lake Travis and the Texas Hill Country. Your professionally trained tour guides offer education and fun throughout your challenging hikes and nature walks. For the grand finale, imagine launching off a cliff 20 stories high and zipping over 2800 feet across beautiful Lake Travis.
Lake Travis Zipline Adventures opened for business July 2011. The zipline park has quickly become one of the destination fun spots on the lake. Your Adventure includes all necessary equipment, boat transportation, water and a light trail snack. You also are entitled to access the Private Beach where you can picnic, swim, play games or simply relax in a waterside hammock.
Video produced by Brad Smith
Location: 14529 Pocohontas Trail
Phone: (512) 614-1996
Web: Lake Travis Zipline Adventures
Related links:
Lake Travis Hotels
Lake Travis Vacation Rentals
---
Take An On The Water Pub/Restaurant Crawl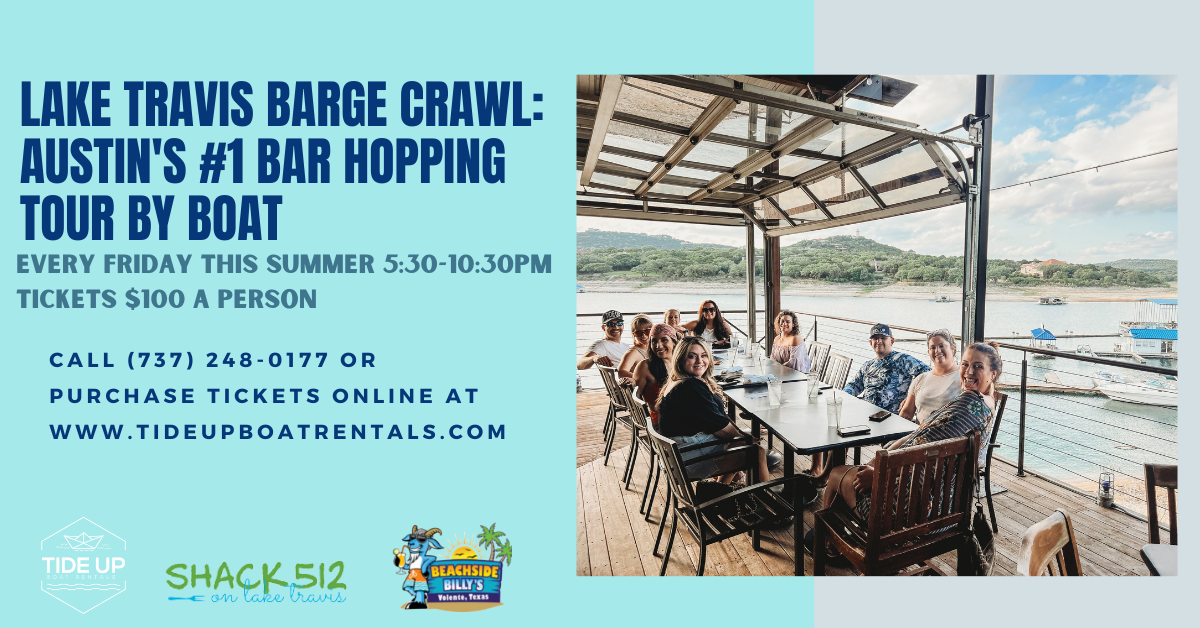 Join us every single Friday this summer from 5:30-10:30pm for the most epic bar crawl on Lake Travis. You will travel to Shack 512 and Beachside Billy's in a spacious captained pontoon boat and enjoy stunning views of the lake, delicious food, drink specials, live music, and more!
Web: Lake Travis BARge Crawl
Provider: Tide Up Boat Rentals
Phone: (737) 248-0177
---
Catch The Sunset At The Oasis on Lake Travis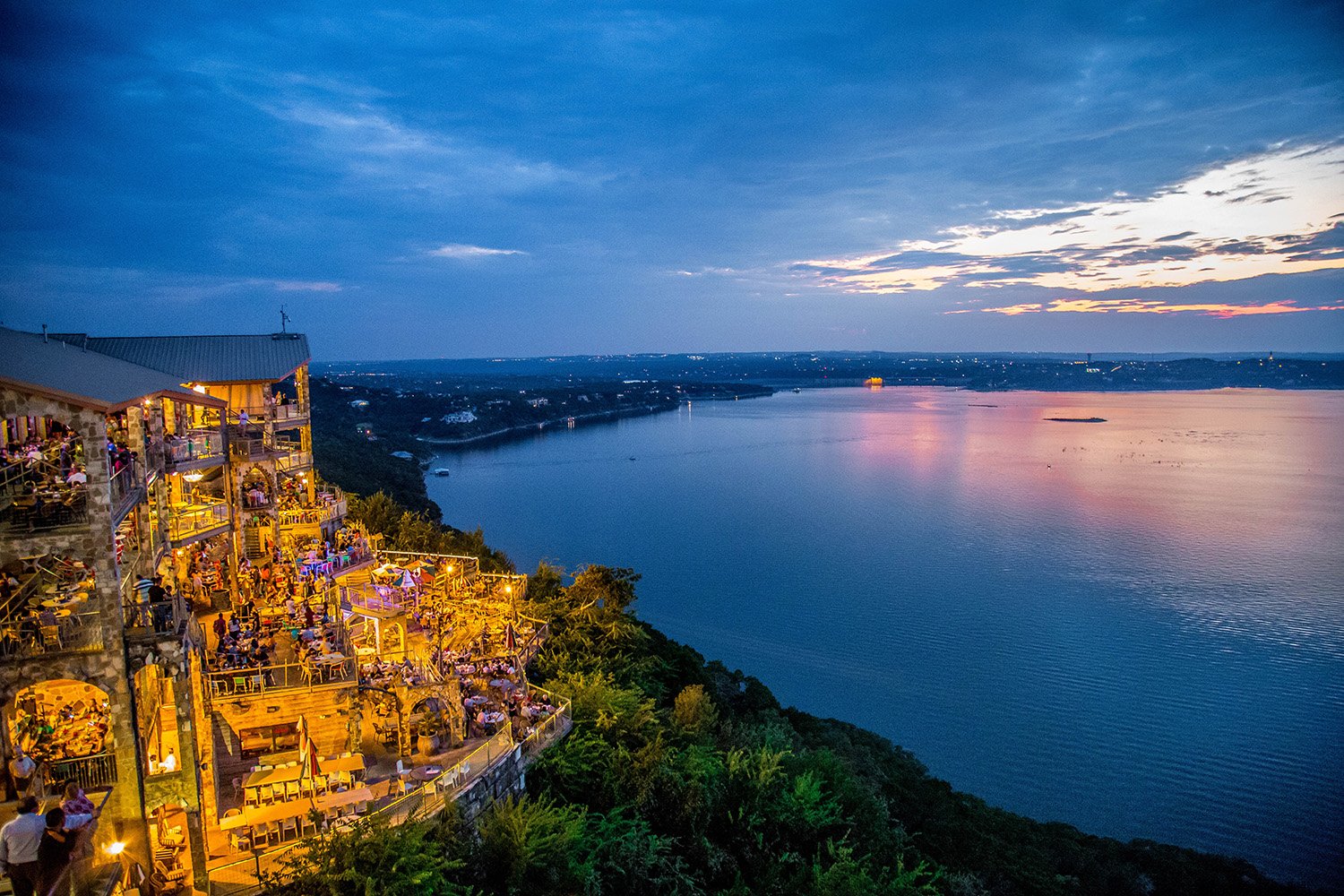 Okay, this restaurant 450 feet above the lake has it's own Wikipedia page and a 4 story parking garage. It's hard to argue Beau Theriot's "Sunset Capital of Texas" with its terraced views looking west over Lake Travis isn't the lake's most famous venue. The 30,000 square foot restaurant sits on a bluff 450 feet above the lake and is the largest outdoor restaurant in Texas. Built in 1982 by Houston entrepreneur Beau Theriot, who purchased a 500-acre ranch overlooking the lake and converted it into the current multi-use venue, The Oasis has been thrilling visitors near and far with amazing sunset's over the lake for over 25 years.
Video produced by Tommy Huynh
The Oasis is also one of the most prolific Live Music venues on the lake with two stages of music – the massive indoor Starlight Terrace and the more intimate outdoor Beau's Backyard both hosting shows on weekend summer nights.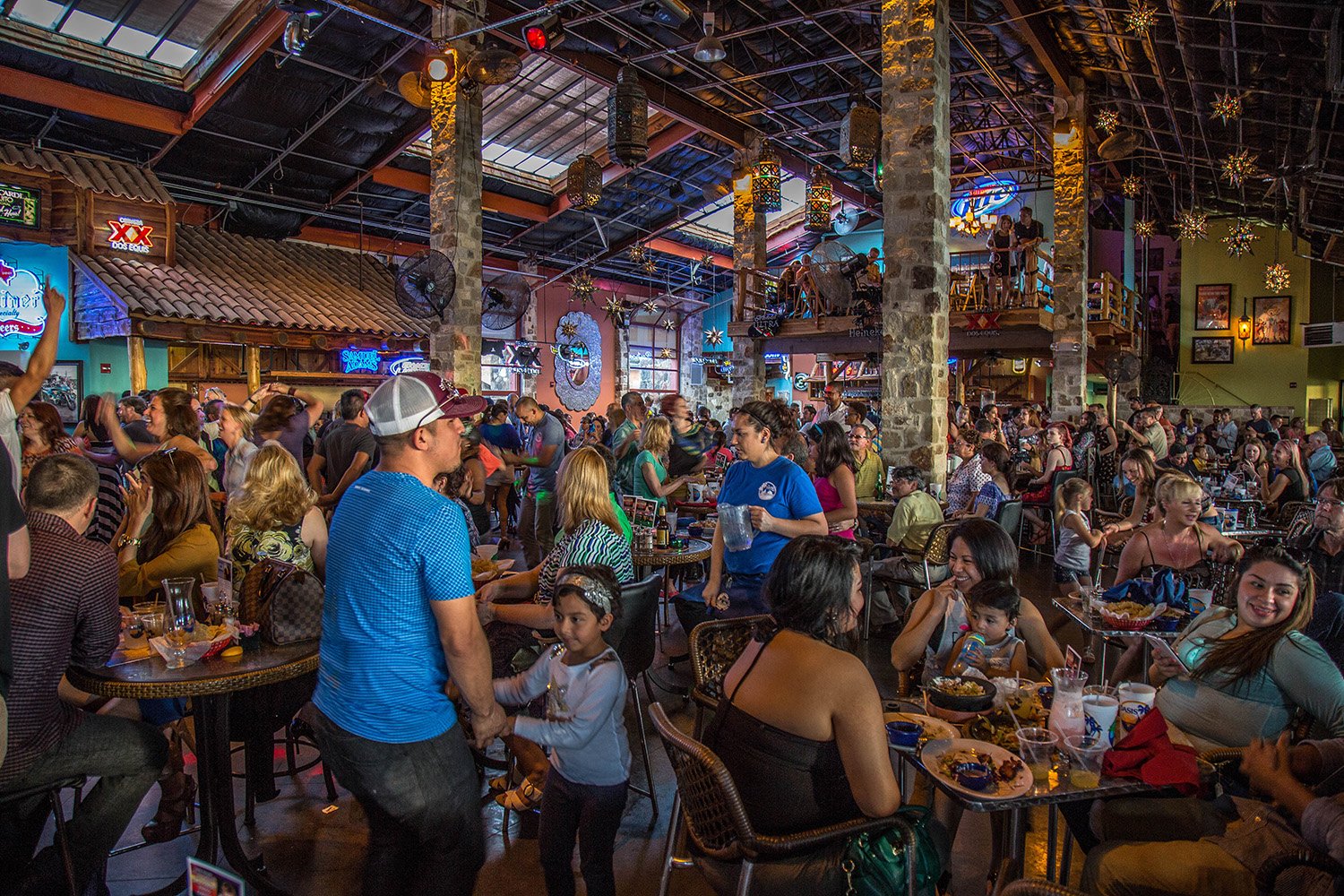 At dusk listen for the Sunset Bell and join in the hundreds of mobile phone selfies along with Texas' most fantastic sunset view. The Oasis Restaurant is now flanked by a bustling community of additional restaurants and retail businesses making it even more of a must-see destination on the lake.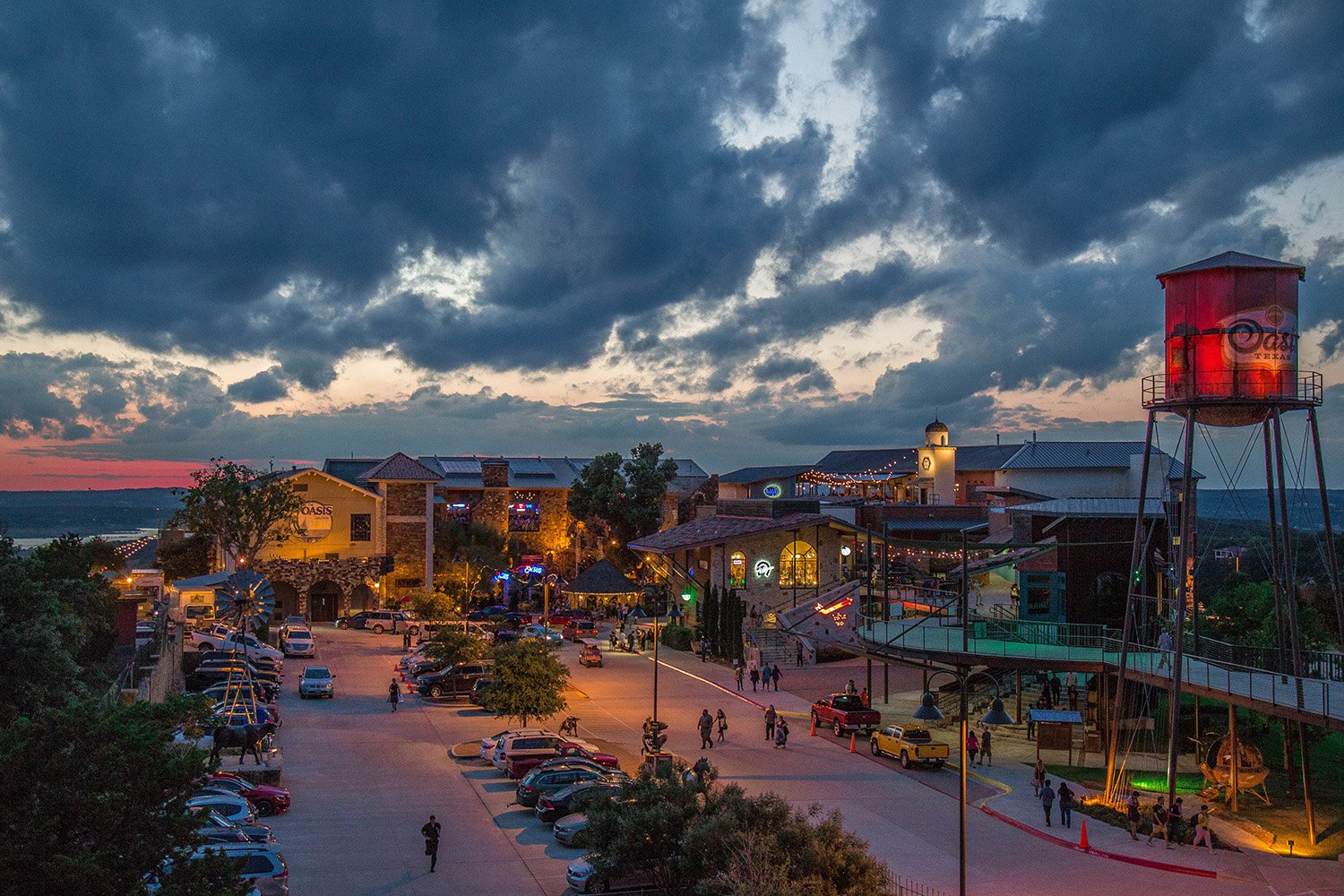 Location: 6550 Comanche Trail
Phone: (512) 266-2442
Web: The Oasis on Lake Travis
Related links:
Lake Travis Hotels
Lake Travis Vacation Rentals
Lake Travis Marinas
Lake Travis Sailing
Lake Travis Boat Rentals
Lake Travis Restaurants
Lake Travis Golf
Lake Travis Wineries
Lake Travis Craft Breweries
---
Play Hard or Just Relax at Volente Beach Resort & Waterpark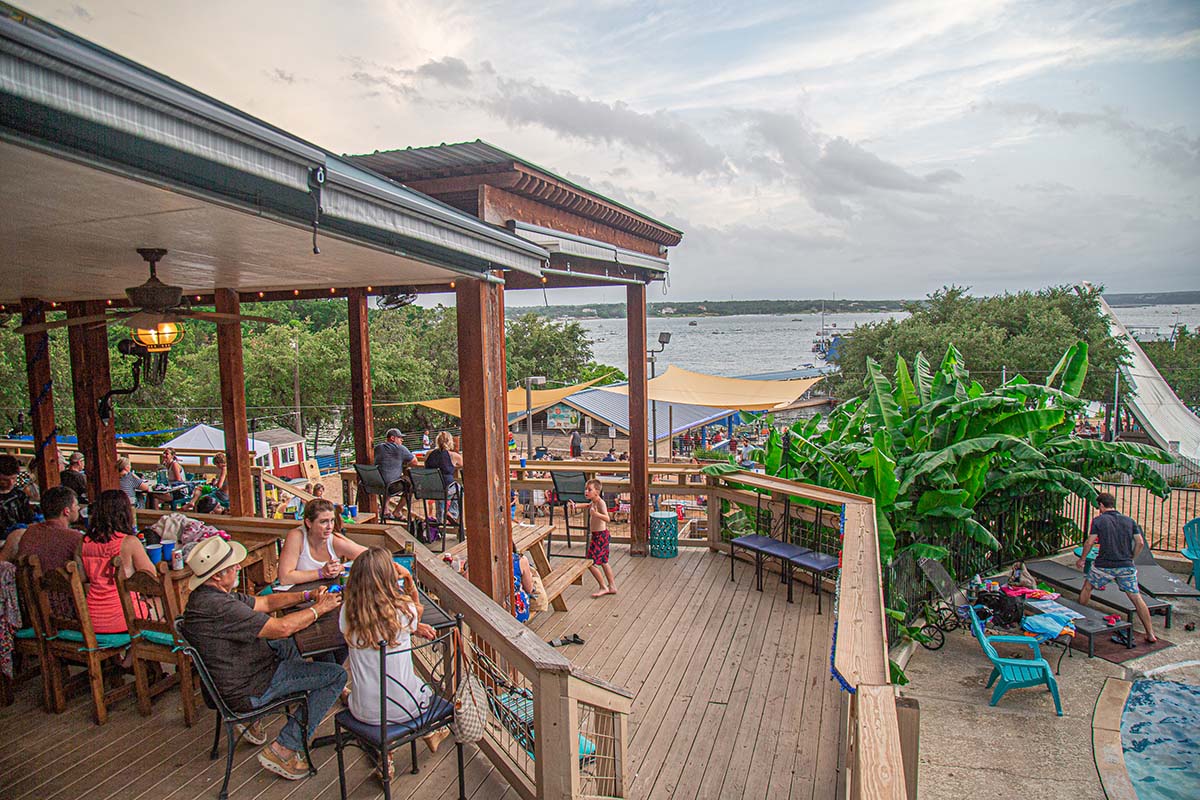 Beachside Billy's Lake Travis Restaurant & Water Park at Volente Beach Resort. Open to the public and located on the shores of Lake Travis, we're the perfect getaway for children and adults alike on a hot summer day. We have our own sandy beachfront and a great volleyball court.
Waterpark
Boasting over 4 acres of Lake Travis waterfront, Volente Beach Resort & Waterpark is a boutique waterpark with 4 slide attractions, a private beach & swim area, 2 pools, a pool & beachside bar, indoor and outdoor dining, bungalows for overnight stays plus so much more. Spend a few hours or spend an entire weekend with us.
Restaurant
Beachside Billy's offers an upscale casual restaurant known for burgers, wings and pizza. We have a beach bar and grill with the best burgers on the lake. Picnics are permitted, so load up the cooler and come on out. We have plenty of options for the kids as well. We ARE accessible by boat. We have boat access docking via our own courtesy docks.
Bungalows
One and two bedroom Lake Travis vacation rental bungalows with water views located in the heart of Volente, TX. Withing walking distance of 2 marinas, a restaurant and a waterpark!! Enjoy breathtaking sunsets from the expansive lawn or while relaxing in a hammock under the massive oak trees. These stone bungalows were originally built in the late 1940's and are rumored to have been a secret retreat for Lyndon B Johnson. Recently remodeled while maintaining the original character of the homes. Relaxing & comfortable lakeside bungalows with all the amenities you will need to enjoy your vacation at the lake.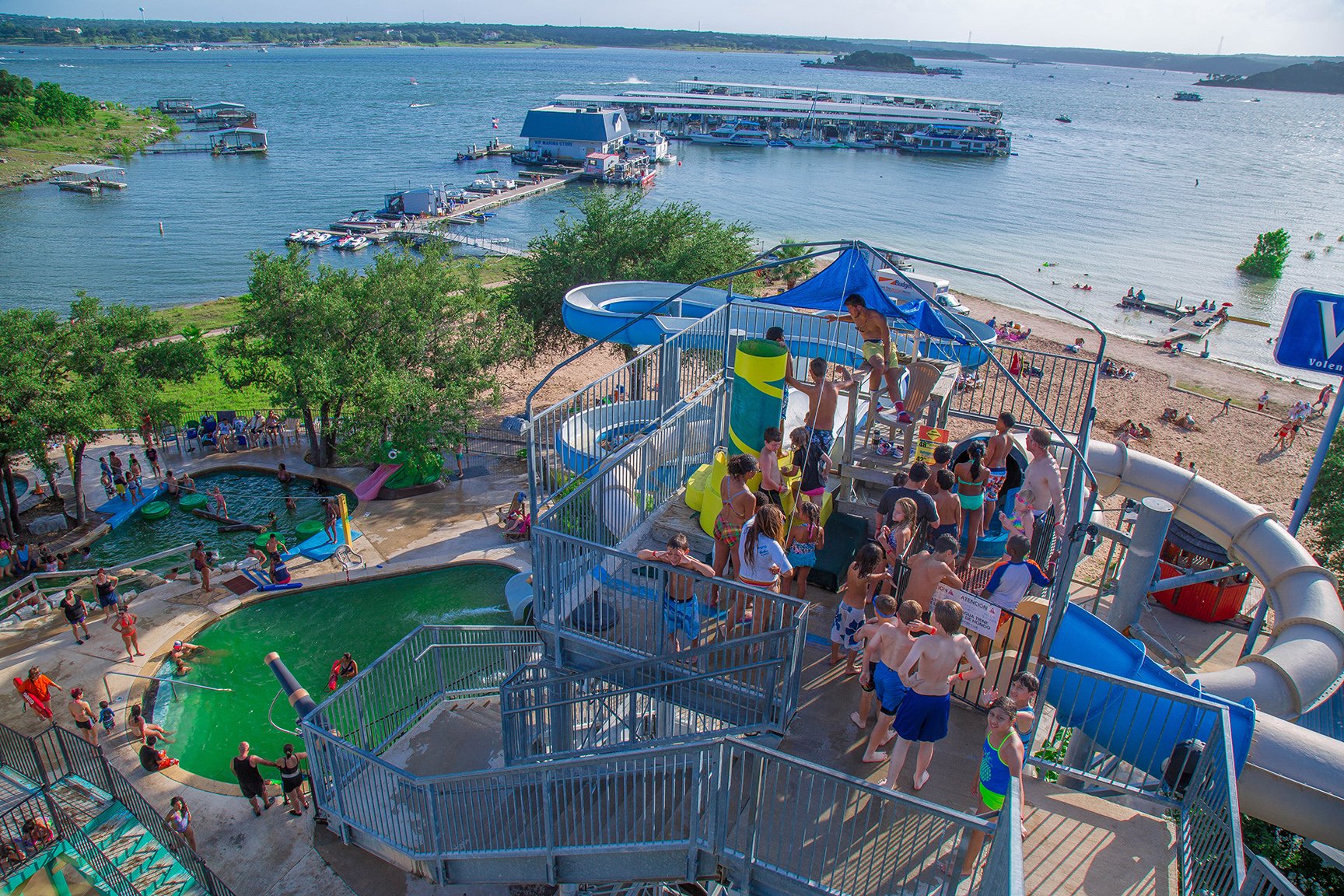 The restaurant host's live music on weekends and Lake Travis' biggest and best Independence Day fireworks show.
Location: 16107 Farm to Market Rd 2769
Phone: (512) 258-5110
Web: Volente Beach Resort & Waterpark
Related Links:
Lake Travis Distilleries
Lake Travis Marinas
Diving on Lake Travis
---
Rent A Boat and Hit the Water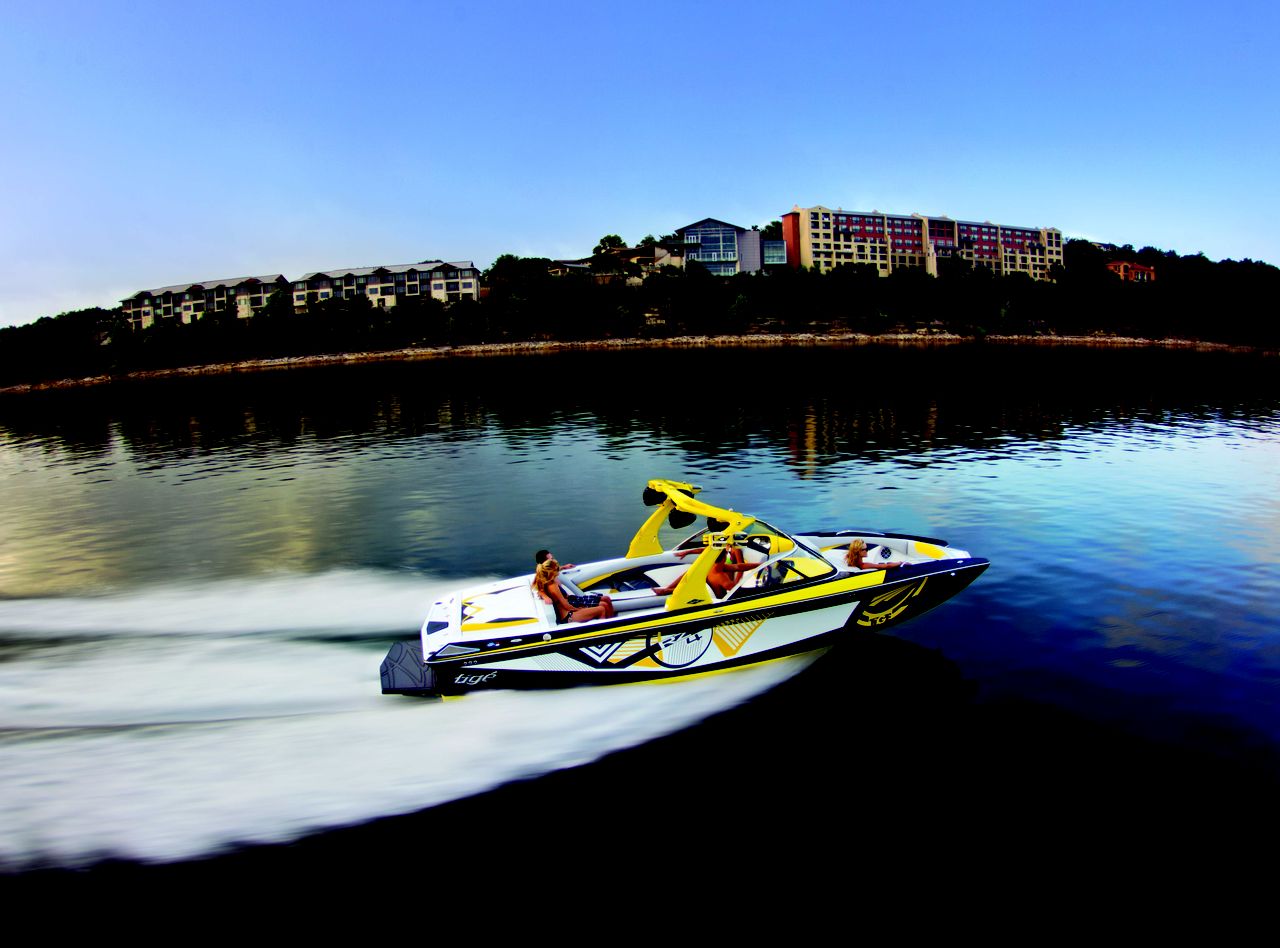 Lake Travis has over 50 boat rental venues operating on the lake. From stand-up paddleboards, kayaks & jet skis, to run-abouts, wakeboard boats, pontoons, sail boats, party barges, luxury yachts & houseboats, this Lake has it all. Certainly one of the most popular activities on the lake is taking to the water. The boat rental businesses typically offer their rentals two ways – bareboat rentals – meaning you rent the boat un-captained and are responsible driving the boat and navigating around the lake, and captained or chartered rentals – meaning a captain/driver is supplied and your job is relegated to just enjoying the day. Most of the rental companies provide an array of water toys with your rental.
Devil's Cove is the go-to party spot on the lake where boats anchor and tie together in huge partying floating condo complexes. If solitude is more your thing the lake offers countless lesser traveled coves and anchor spots.
Video produced by Hunter Pontious
Wakeboarding and wakesurfing are great mornings and evenings (low traffic times) in some of the lesser trafficked coves, and upriver west of Lago Vista and Pace Bend Park where Lake Travis begins to look like Lake Austin (without the traffic).
Related links:
Lake Travis Hotels
Lake Travis Vacation Rentals
Lake Travis Restaurants
Lake Travis Live Music
Lake Travis Boat Rentals
Lake Travis Sailing
Lake Travis Yacht Charters
Lake Travis Houseboat Rentals
Lake Travis Party Barges
Lake Travis On The Water Pub Crawl
Lake Travis Lakeview Restaurants
Enjoy your time on Lake Travis. There is so much more to do and see. Visit LakeTravis.com or give us a call at (512) 261-5121 for more ideas for fun on the lake.