Lake Travis is an exciting destination for amateur and technical divers alike.
Destination dives include the Shaker Plant, which was used to process the construction materials used to build the lake's dam, with some features at recreational depths and others extending beyond 100 feet deep.
In addition, there are walls and grottoes to explore, along with forests of sunken pecan trees.
Along the aptly named Wreck Alley, you'll find a permanent line that leads to a series of wrecks ranging from houseboats to sailboats. As you make your way from one site to the next, you'll find yourself in the company of yellow spotted and channel catfish, perch and bass, tilapia, and crappies.
Visibility averages 8-10 feet, and charters are available. Located just 14 miles northwest of downtown Austin, this is a great place to spend a day or make several dives over the course of an extended period of time.

Video: Diving off Windy Point Park courtesy TheThrillRunner
Here are some great shore diving access points…….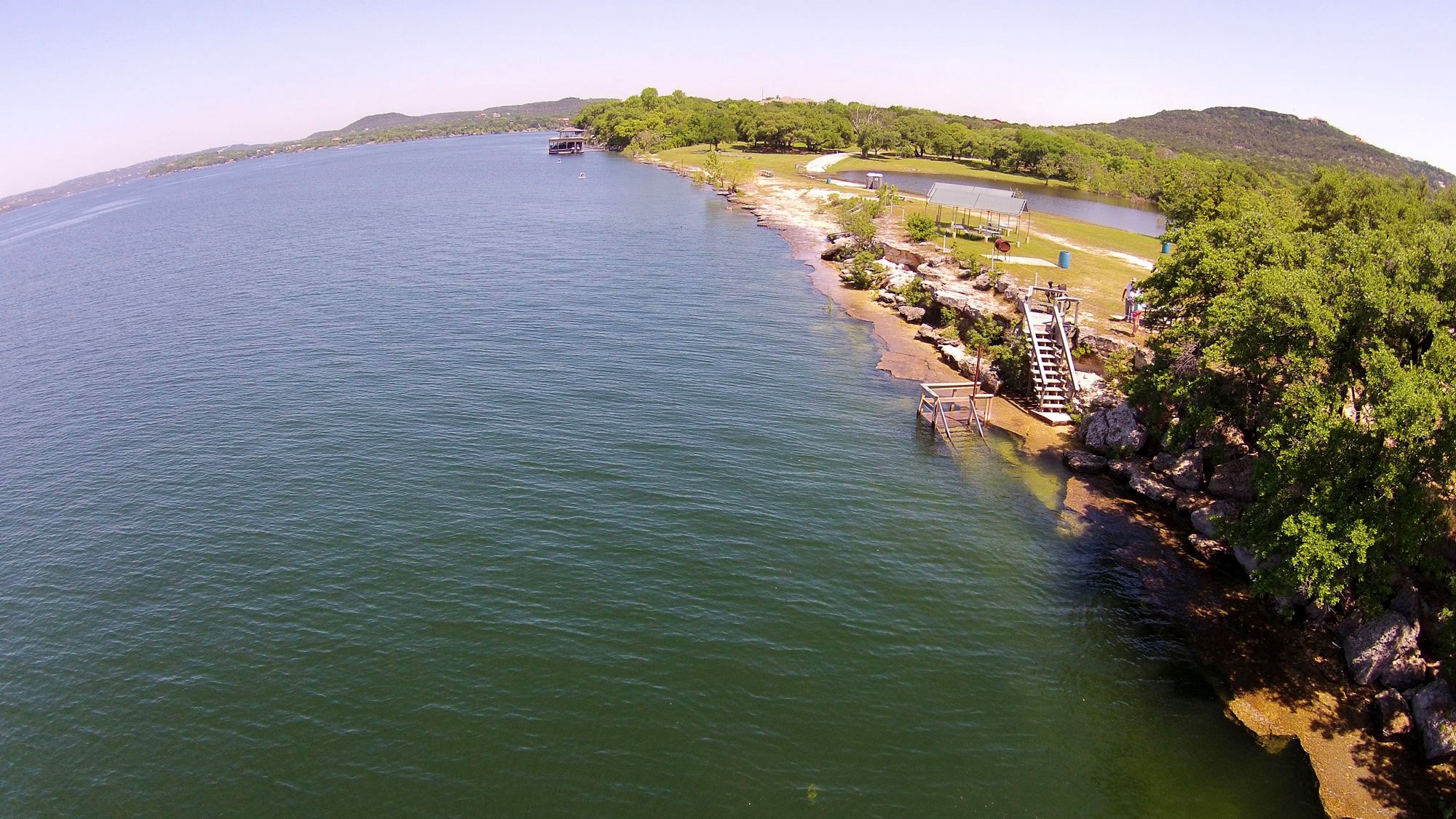 Windy Point Park is one of the top diving "hot spots" in the Central Texas area. It has been recognized by various divers and instructors from all over the state. Locally, several Fire Rescue and Underwater Rescue Operations use Windy Point Park as a training ground to help save lives.
Windy Point offers a wealth of items to find, explore, and seek out in Lake Travis. Divers will find boat wrecks and unique metal sculptures of a scuba diver, a sea turtle, a shark and a manatee along with other interesting objects. There are some small boats, a larger sailboat, a Pinto, and more! There are six platforms available for instructors to use for training. Divers with advanced training and experience can enjoy the deep underwater canyon wall, plunging to depths well over 100 feet. Dress warmly however – the temperatures at that depth can differ 30 degrees from the surface.
Where: 6506 Bob Wentz Park Rd
Phone: (512) 266-3337
Web: windypointpark.com
Related Links:
Lake Travis Vacation Rentals
Lake Travis Hotels
---
Mansfield Dam Park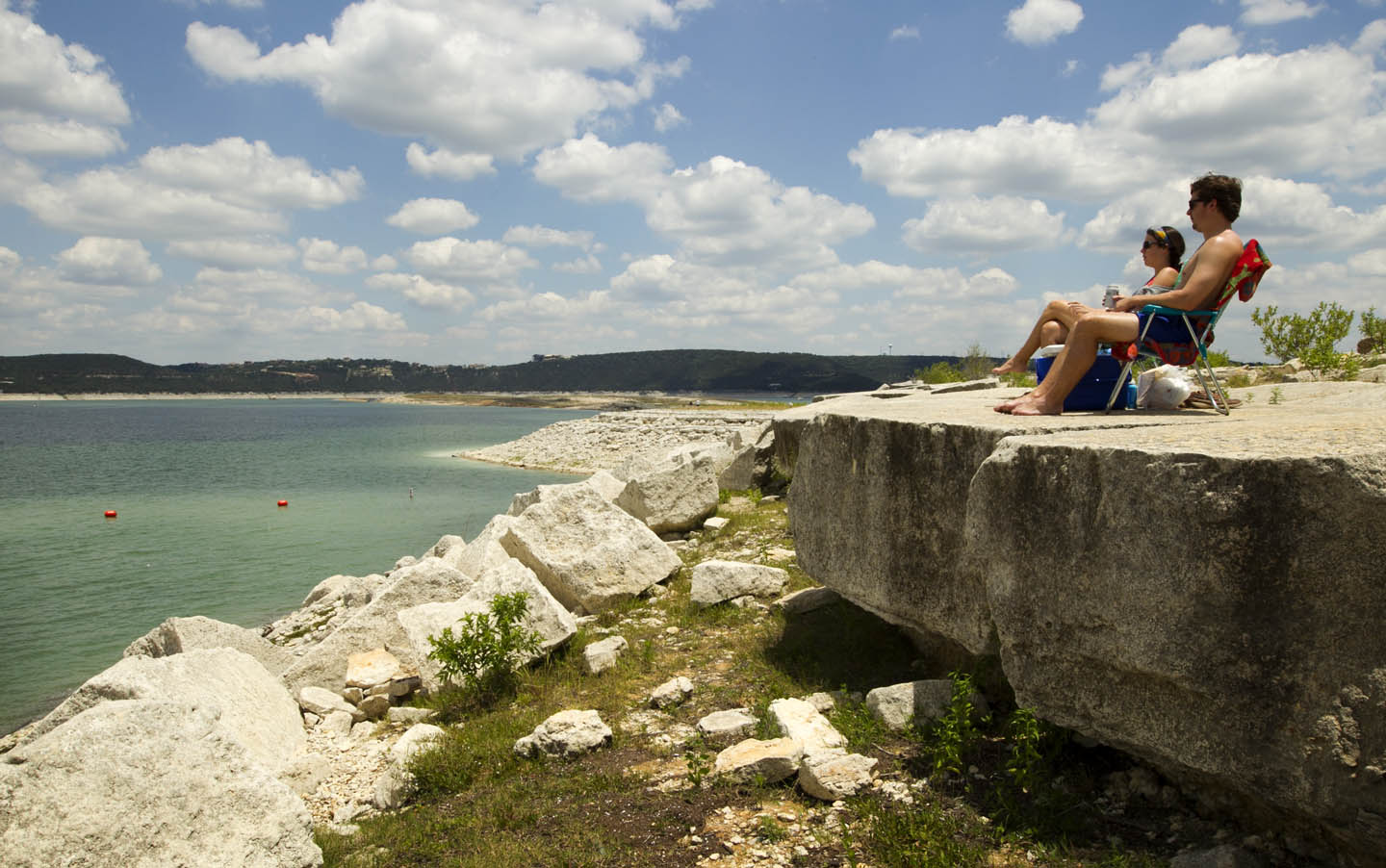 Diving is almost as easy as stepping right from your car door into the lake. Mansfield Dam Park provides dive stairs, a wheelchair-accessible ramp, and a courtesy dive lift to ease the trek from hillside to lakeside. Underwater amusement has been enhanced by the addition of four underwater dive platforms at various lake levels. Also, an underwater trail and compass course will be laid out to connect dive attractions such as sunken boats, historic dam construction materials, and geological points of interest.
Where: 4370 Mansfield Dam Rd
Phone: (512) 854-3375
Web: parks.traviscountytx.gov
Related Links:
Best Camping on Lake Travis
Best Lake Travis Parks
---
Dive Sites
Starnes Island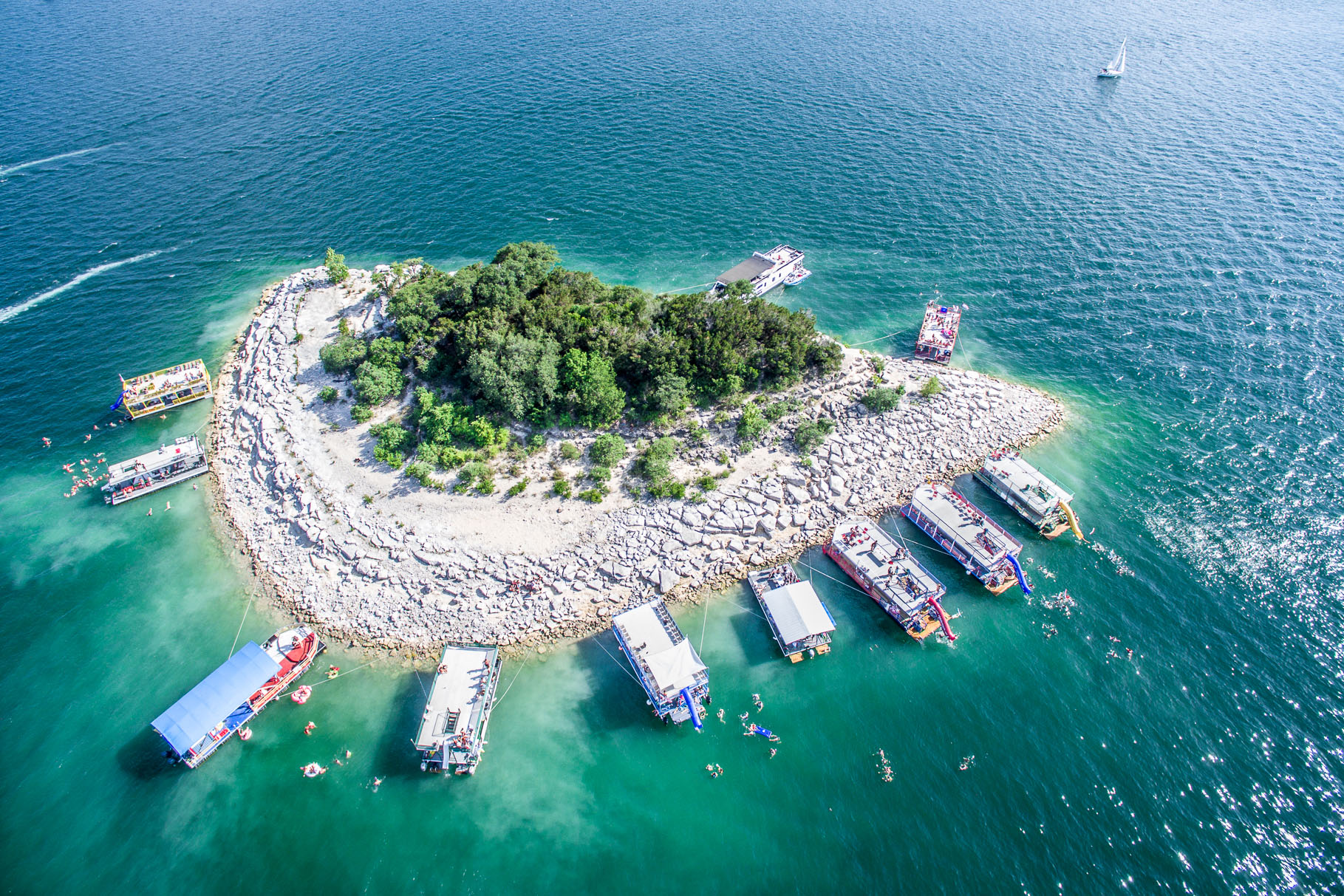 Also known as Rattlesnake Island. Offers a wall dive to depths beyond 100′ and a gradual sloping section with three boat hulls and a riding mower to explore. Many of the party barges on Lake Travis use the wall throughout the summer resulting in lost sunglasses, cell phones, hats and an occasional unopened beer, making this a treasure hunting dive. An easy dive for any level diver, don't miss the lady of the deep around 60′. The boat follows your bubbles so you can explore the site without concern for relocating it at the end of your dive.
Fiesta Haus Wall
A perfect location for deep diving, this site has a deep mooring line for a visual reference to the bottom. Once at the bottom of the line, divers can either continue descending along the bottom toward the deep river channel or turn along the wall for the dive. Not far from the boat is a large grotto that extends deep into the rock wall and contains a significantly sized air pocket from divers exhaust bubbles. This site is useful for practicing navigation skills using visual references and time tracking to easily return to the boat.
Oasis Wall
Located under the Oasis Restaurant this sheer wall features large grottos and a hole with stalactites that formed prior to the lake being created by dam construction in the late 1930's. The grottos are located within recreational diver limits, though depths at this site exceed can exceed over 100′ for deep or technical diving. This site simulates a drift dive with the boat following your bubbles to pick you up when you surface.
Shaker Plant
Between the 1930's and 1940's the Shaker Plant was used to process raw materials for use by the concrete plant for the construction of Mansfield Dam. Located at the end of Sometimes Island, this site contains remnants of the plant such as concrete pads, wooden support frames, metal pipes and impellors, piles of processed materials and more. Two lines allow touring the site to maximize bottom time. A descent and ascent line is attached to a large concrete support of the plant.
West Point
Across from Starnes Island is West Point, a dive that features a few different boats and a continuation of the wall from Starnes. Here, you'll find three platforms, with one at depth for advanced training. Mysterious objects lay in these waters, including a washing machine, pieces of a satellite dome, a microwave, tank radar, and some barrels. If you're looking for something new in the lake when it's full, swing by for a peek.
Cypress Creek Wall
This sheer wall, curving along the Cypress Creek arm, features long vertical cracks and crevices before slowly sloping to the river channel.
Wreck Alley
Formerly known as Don Brod's Scuba Park, this site was developed in the 70's by one of the original Austin dive shop owners as a dive training facility and for recreational divers. This site includes large houseboats, sailboats, motorboats, cars, and other sunken objects to explore as well as a wall leading down to pecan trees and the original riverbed. Specialty courses such as navigation, wreck, peak performance buoyancy, or deep dives can be performed at this location. A mooring line is attached to the large wreck for use as a descent and ascent line.
Dive sites courtesy of Lake Travis Scuba
---
Resources: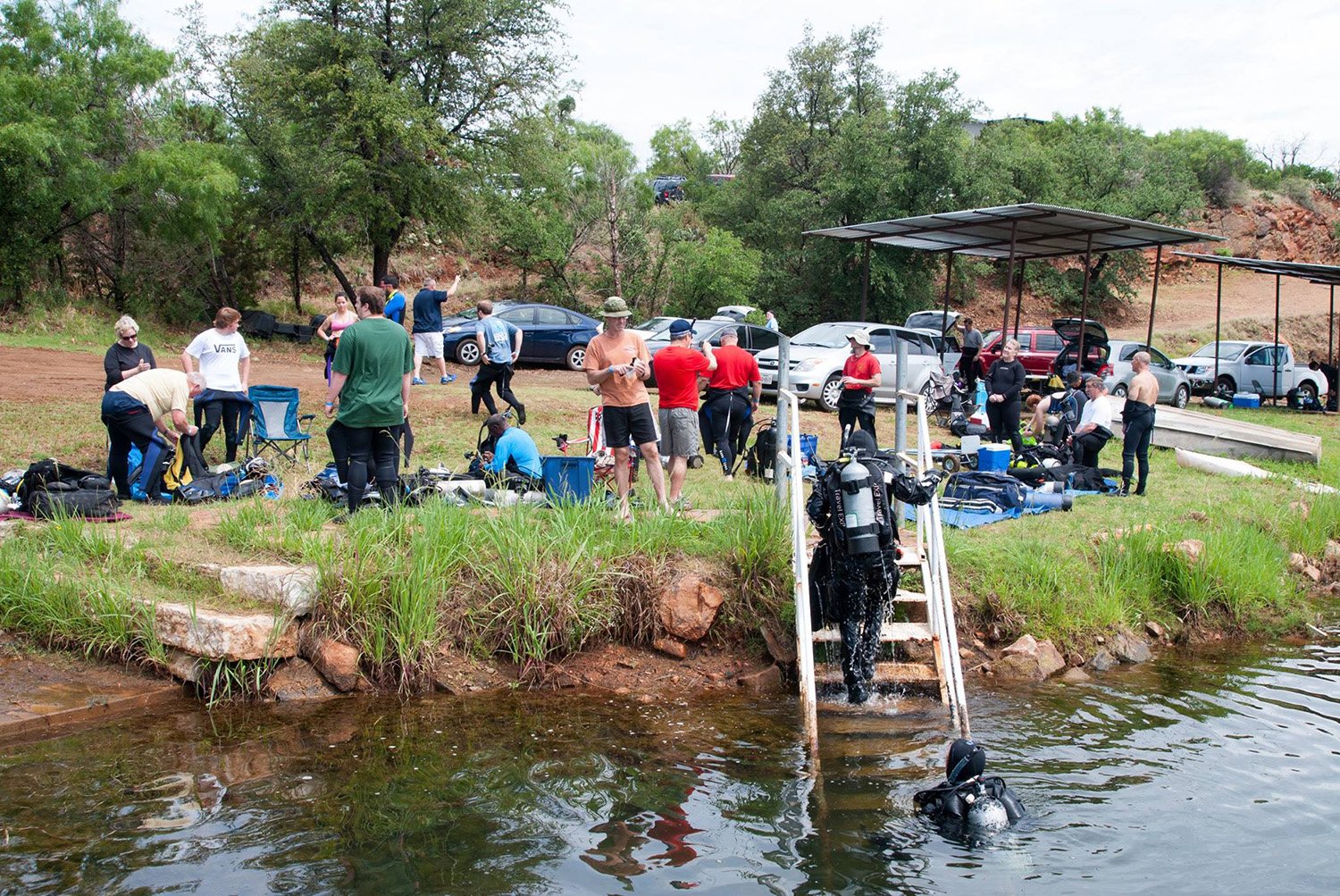 With a training center, a swim school (the largest indoor heated training pool) and the largest training staff and course schedule in the Austin area Scubaland is a smart choice. Whether you are a beginner, intermediate, or even professional level diver you will find all the courses and gear you need as you learn. Scubaland stocks the best brands in the scuba industry. Come in and see for yourself that we have the best selection of equipment in Austin. Lifetime Open Water SCUBA Certification. Scubaland is the Leading Full Service PADI Five Star SCUBA Dive Shop in Austin.
Where: 1001 W Anderson Ln
Phone: (512) 323-6999
Web: Scubaland Adventures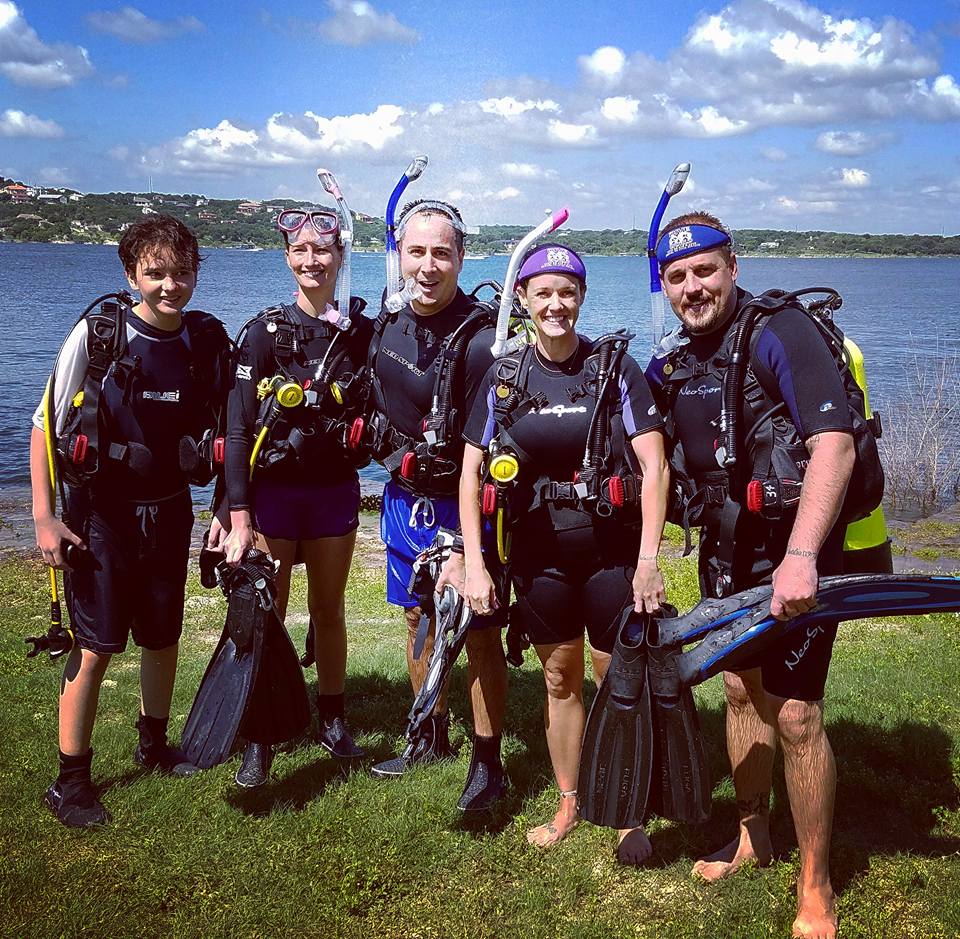 Dive World is Austins Premier PADI Five Star Instructor Development Center. At Dive World you experience diving with high-quality staff, a family friendly environment, an indoor heated pool, the lake at your finger-tips, and instructors who love the ocean just as much as you do! We love swapping stories, creating new divers, helping advanced divers achieve new goals, and helping divers make equipment choices easy. Our Instructors don't just teach scuba, they LOVE to dive. If they're not in the store you can often find them out and about on Lake Travis, on an island exploring the underwater world or learning more about the ocean!
Where: 12129 Ranch Road 620 N
Phone: (512) 219-1220
Web: Dive World Austin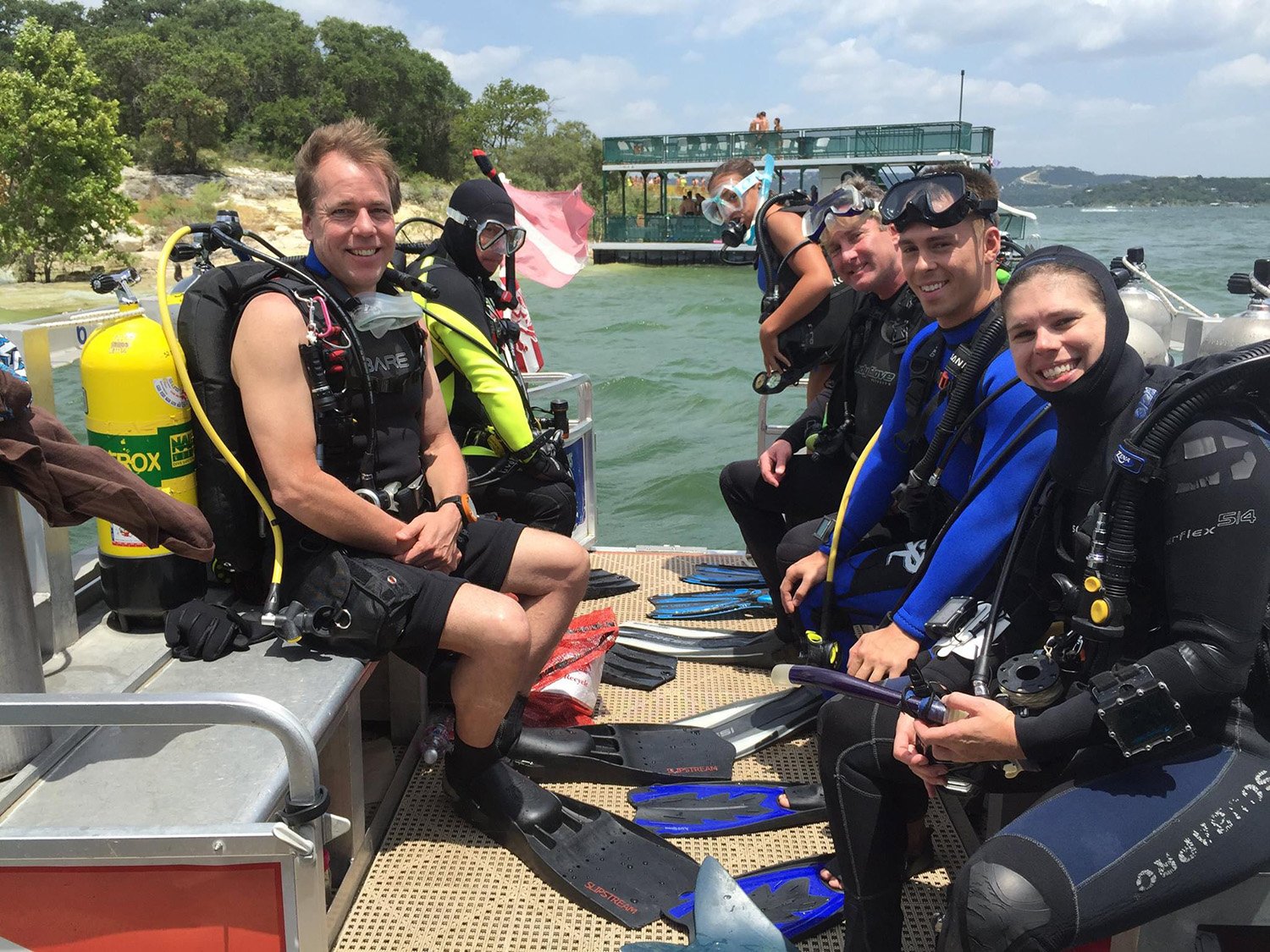 Lake Travis Scuba provides transportation to a variety of dive sites on Lake Travis aboard THE GIANT STRIDE, a 30-foot Pontoon Boat customized for scuba diving. The boat has many special features and amenity updates to make your excursion comfortable, safe, and enjoyable:
•8 Diver Stations with two tank holders and equipment storage
•Dry Storage area
•Canvas enclosure for sun shade in summer and warmth in cooler weather
•Large heavy-duty ladder for easy exit from the water
•Rental air tanks available
Avoid the dirt and additional effort required of shore dives! Easily load and unload your equipment at the dock.
Where: 16203 Dodd Street
Phone: (512) 784-5980
Web: Lake Travis Scuba