Your guide to Lake Travis Sailing. Our Lake Travis Sailing Report is brought to you monthly by Sailing Charter Captain at SailATX and Austin Yacht Club member Steve Ward (512) 222-3634.
August 2018
Kiwi Brings Night Sailing Fever to Austin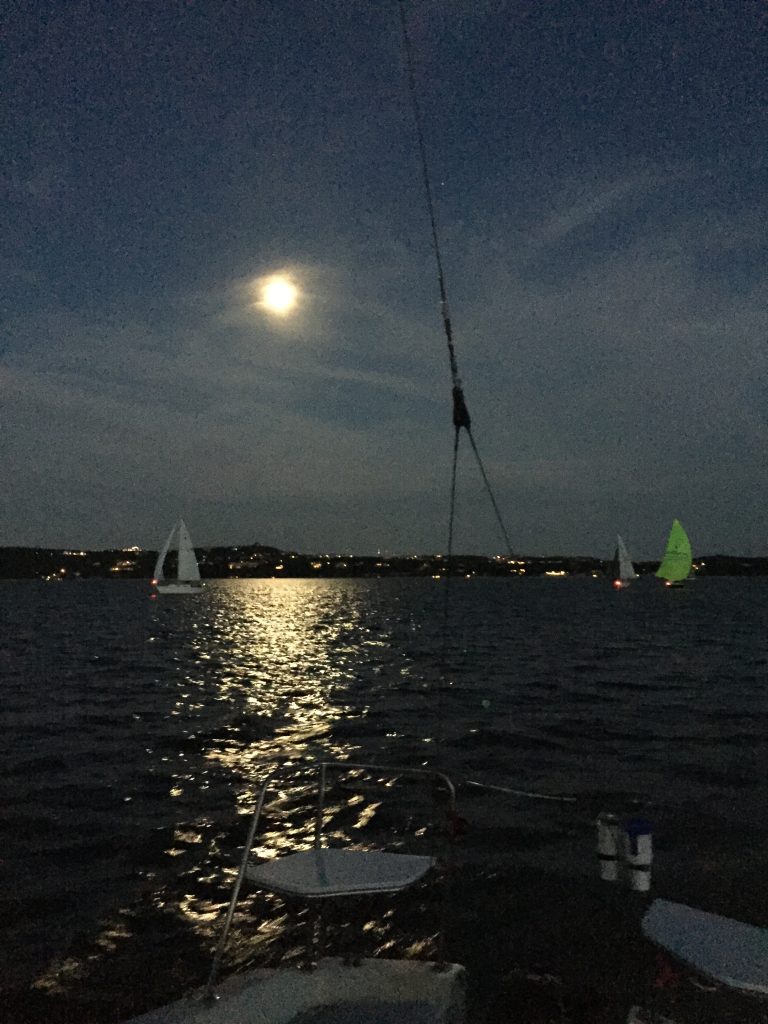 Before moving to Austin, New Zealander James Parsons twice sailed across the Atlantic in 2012. In Austin he began to miss the night sailing he experienced on the Atlantic. "It was such an amazing, peaceful experience. After buying a boat in 2015 I was back out sailing at night and bringing friends along."  James is on a mission to introduce people to sailing.  By last count he has introduced 902 people to Lake Travis sailing. You read that right – 902!
"But it was hard convince other Lake Travis sailboat skippers to join me on night cruises — for shooting stars or for a full blood super lunar eclipse."
When he mentioned to friend and fellow Austin Yacht Club member Chris Thompson that he wanted to help other sailors discover night sailing, James asked, "What if I make it a night race?"
His response: "If you build it…"
And indeed they did come. The Moon Burn series has averaged 27 competitors each year.
MoonBurn has been part of James's effort to get young professionals into sailing. "It's a way to keep our amazing sport/activity/lifestyle/travel alive."  James is doing his part to stem the decline in membership some yacht clubs have experienced since the 80s.
Austin Yacht Club's MoonBurn series is wrapping up its third year this August 24th.
In the summer on the four Fridays closest to the full moon sailboats hit the lake before sunset and enjoy the advantages of night sailing: good winds, great temperatures, very few (if any) power boats, and you can't get a moonburn.
The members have another night experience cooked up for Aug. 11th: a free raft-up during the Perseid meteor shower. Contact moonburnayc@gmail.com for more info. The plan: meet at AYC at 7pm, head nearby to "Zip-Line Cove" (in Cypress Creek, east of Lake Travis mile marker #6. Or, 30.426° N, 97.882° W). Use VHF radio Channel 78 for on the water calling during the event.
Oh, and you can forget the sunscreen this time.
Contact James Parsons at Facebook https://www.facebook.com/jamesthecarman or Email: moonburnayc@gmail.com
Related links:
SailATX Charters
Austin Yacht Club
Commanders Point Yacht Basin Marina
Sail & Ski Yacht Club
Lake Travis Sailing Charter Operators
Lake Travis On The Water Pub Crawl
Lake Travis Marinas
Lake Travis Fuel Docks
Lake Travis Lodging
June 2018
Hot and Busy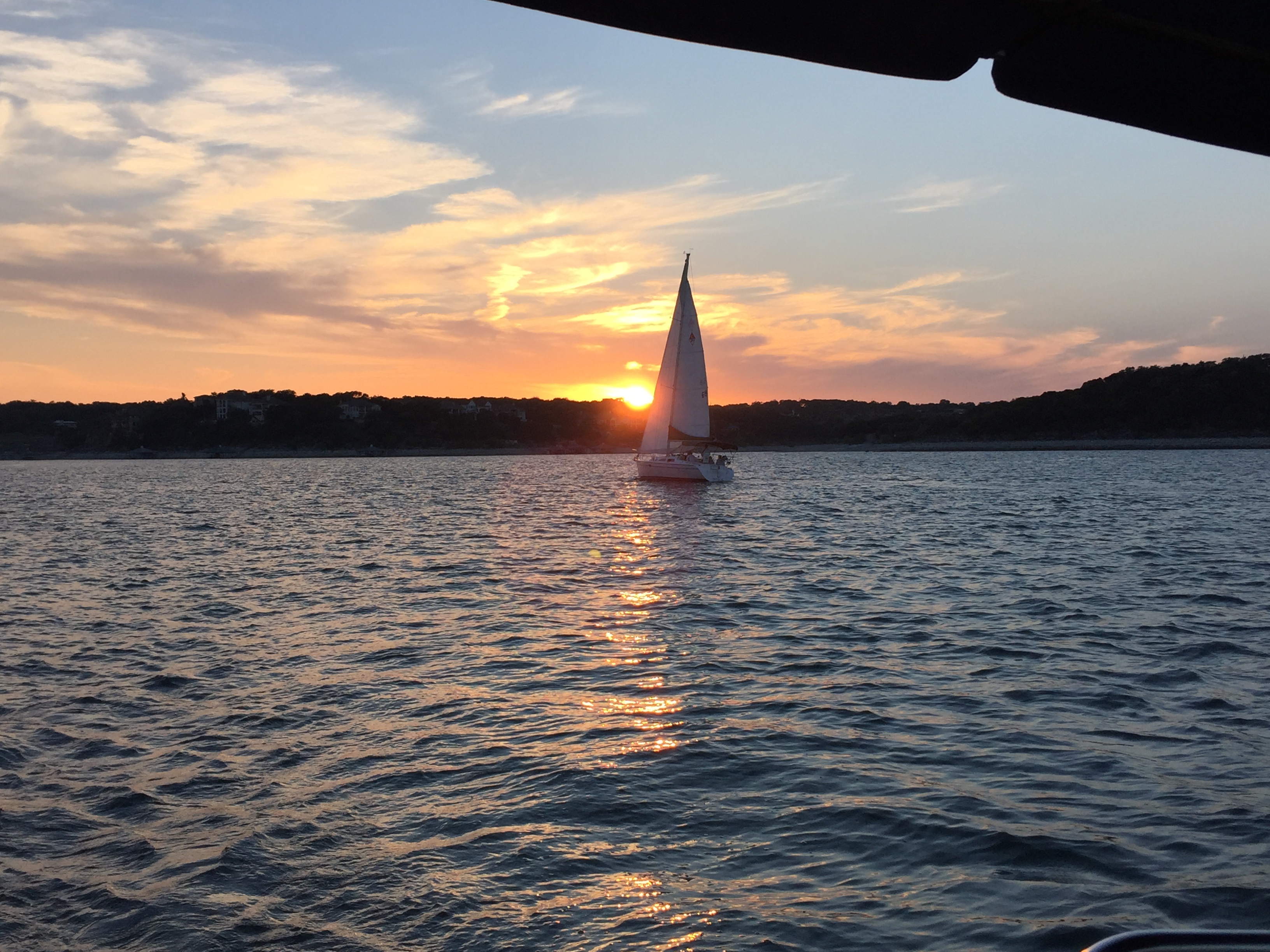 June is typically a hot and busy month for sailors on Lake Travis. Wind conditions this month are historically mild with the occasion thunderstorm to be on the watch for. The Lake sits at 665.41, 16 feet below full pond and some of the islands and shallow peninsulas around the coves are coming into view. June temps. look to be on the warm side this month with daily highs expected from the mid to high 90's.
Looking to learn to sail or get back on the water. The Austin Yacht Club has a great club/facility and always check their classifieds if you're boat shopping. The Club will be busy this month (June) with events like:
RoadRunner/Optimist Mid America Championship
Endless Summer Junior Series
Wed. Evening Laser – Sunfish Racing
J/24 Circuit Stop
Friday Night Beer Can Race
ASA 101 – Day 1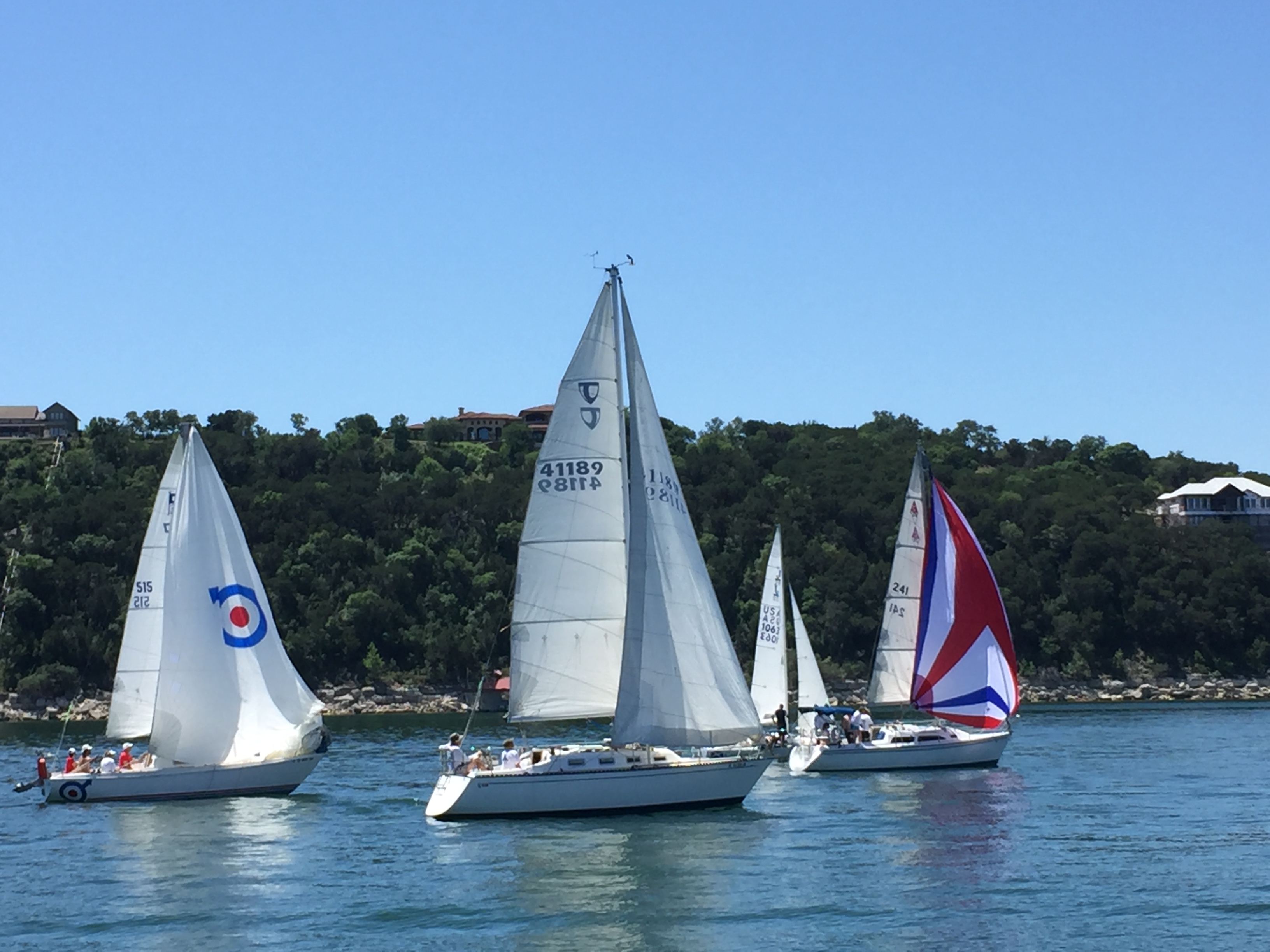 Related links:
SailATX Charters
Austin Yacht Club
Commanders Point Yacht Basin Marina
Sail & Ski Yacht Club
Lake Travis Sailing Charter Operators
Lake Travis On The Water Pub Crawl
Lake Travis Marinas
Lake Travis Fuel Docks
Lake Travis Lodging
May 2018
Turnback Canyon Regatta & Lago Fest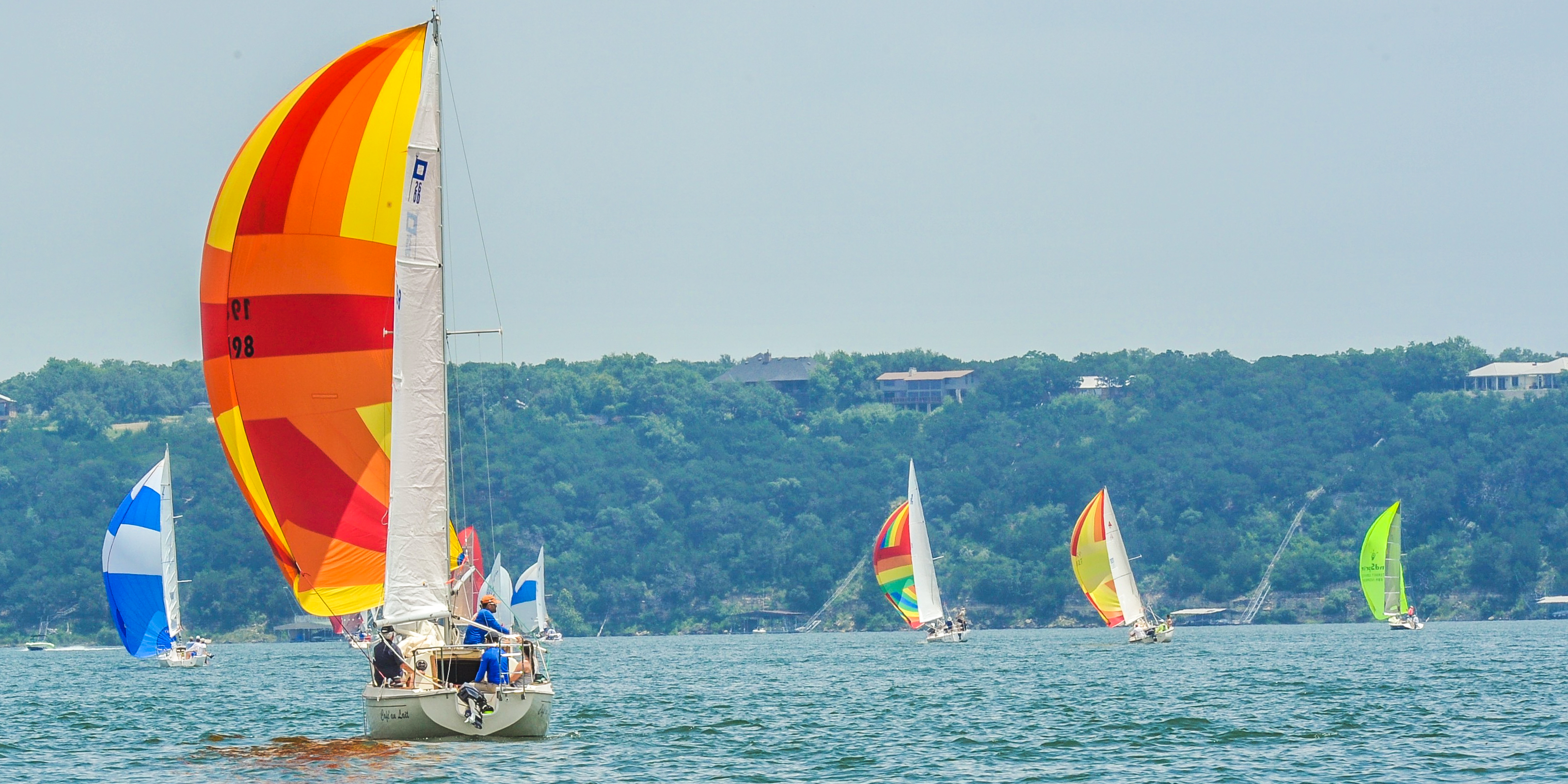 On Saturday May 5th about fifty sailboats of all shapes and sizes will line up for the annual Turnback Canyon Regatta on Lake Travis.  The race, put on by Austin Yacht Club, started in the 1950s.  
The long distance competition is the biggest event of the year for the Club which was founded in 1951 on Lake Travis.  
A host of volunteers pitch in to bring off the race.  People like Larry Ratliff who's managing the race committee.  His team sets up the course, keeps score and ensures a safe and fun race on the water.  
People like Constanze Heitkoetter who's in charge of dinner Sunday night after racers sail back to Austin.  She and the
Road Runners
youth sailing group is cooking up a giant batch of jamabalaya and other goodies for the crews who are sure to be hungry.  
The racers start not far from Mansfield Dam on the east side of Hudson Bend.  From there they sail up lake for about 18 miles ending at a finish line near Lago Vista's Bar K Park.  To add to the excitement, the city of Lago Vista is putting on its annual Lago Fest ('Boats, Beats, Arts & Eats") at the park.  
The event is open to the public, but you must register with the Club if you want to take part in the race.
Crews will spend the night at the park, sleeping aboard larger boats or pitching tents in the park if they arrived on smaller beach cats or dinghies.  
Members are thankful again this year for a lake with enough water to race all the way to Lago Vista.  In recent years the race was either cancelled or severely curtailed by a parched, drought-stricken lake.  It's been a good run since 2016 when the race returned to its full, long distance event.
To learn more about the regatta visit AustinYachtClub.net.  To find out more about Lago Fest and get your free tickets, visit LagoFest.com.
April 2018
A Busy Sailing Month on Lake Travis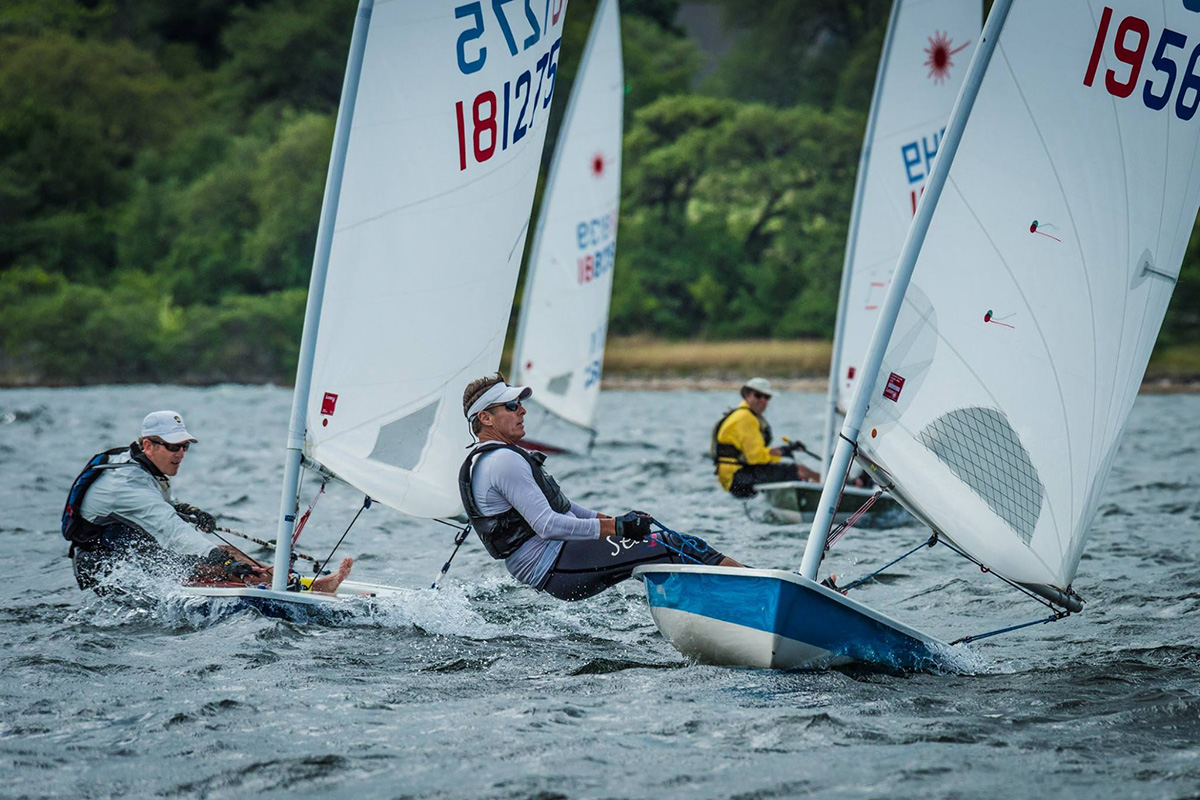 The Austin Yacht Club calendar is full for the month of April beginning with the Easter Laser Regatta today and continuing with the Govenor's Cup Regatta next weekend.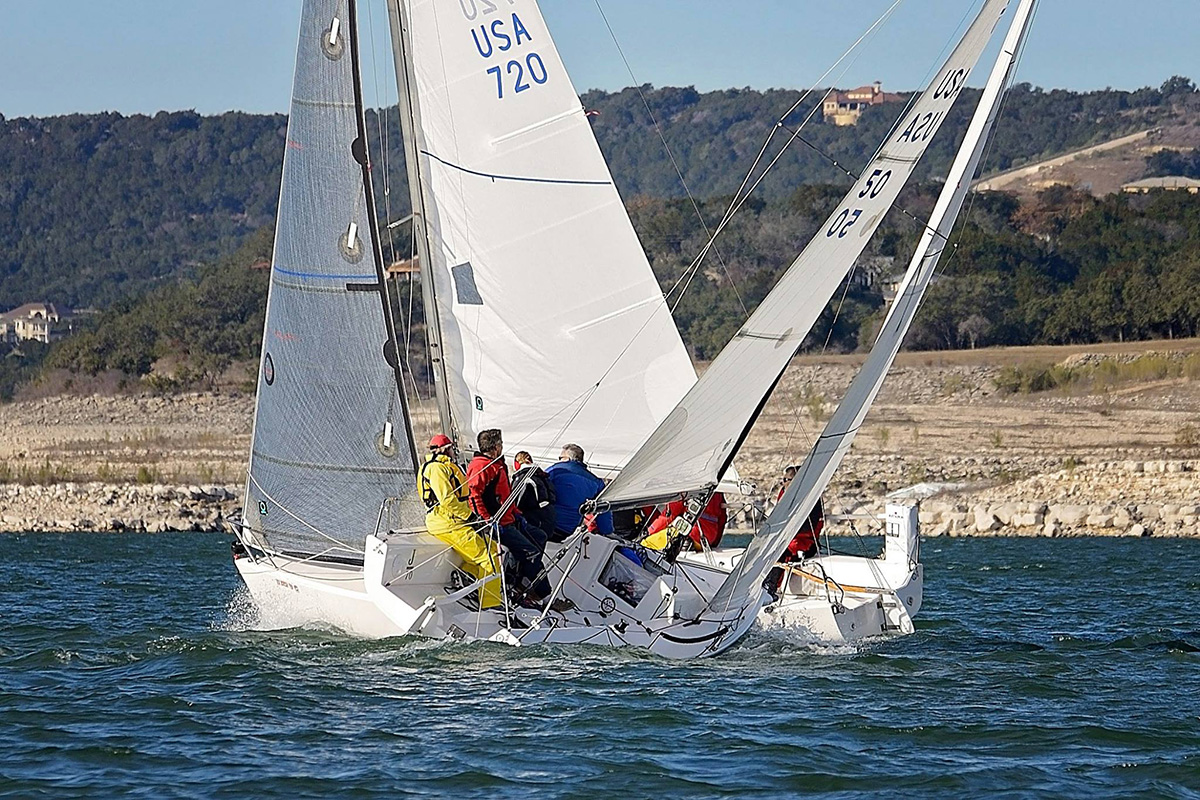 Sea Scout day sails, weekly Friday Night Beer Can Races and Free Sail Sunday's fill the month. April finishes strong on Lake Travis with the Texas State Sailing High School Championships.
Below is a great widget from Windfinder that forecasts wind direction, speed, air pressure and air temp at Bob Wentz Windy Point Park.
Related links:
Austin Yacht Club
Commanders Point Yacht Basin Marina
Sail & Ski Yacht Club
Lake Travis Sailing Charter Operators
Lake Travis On The Water Pub Crawl
Lake Travis Marinas
Lake Travis Fuel Docks
Lake Travis Lodging
March 2018
Sailing Paradise – Getting to Know Arkansas Bend
Carlos leads the pack, paddling away from the sailboat like Daddy Duck and his five ducklings.  We are anchored at Arkansas Bend, having sailed there from nearby Hurst Harbor.  It's a lovely warm afternoon and we've invited our friends to sail with us on Lake Travis.
Smiles and laughter abound.
Arkansas Bend is like that.  It's a calm respite from the sometimes rambunctious main body of Lake Travis.  In the two main coves bordering the park it's easy to anchor behind the protecting hills.
Down But Not Out
One of my best memories of Arkansas Bend is from summer 2012.  The lake was very low (for those keeping track, 640' versus the 668' it stands at now.)  I was having lunch at Iguana Grill (now Lucy's on the Lake).  Overlooking the lake I was delighted to see sailboats coasting by.  Like many of my fellow Austinites I figured it was just too dry to sail.  Was I wrong.  Right then I decided to start searching for our next boat.  We had been boat-less for five years after our daughter was born.
This past Independence Day friends joined us to watch fireworks at Arkansas Bend.  It was a great protected place to see the fireworks put on in Volente.  Although it's a few miles away, we could easily see the fireworks.
Watch Out
Don't be the guy we saw last summer.
One of those very large – I'd say 80 to 100 feet –  houseboats was chugging along Lake Travis and cut the corner at the Bend just a little too short.  A few minutes later my friend Andre texted a picture.  The aft end of the vessel was riding low.  They had steered too closely to the northern edge of the lake.  That area is very shallow and easy to run aground, especially when the water is just high enough to obscure the rocks, but not high enough prevent running aground.
Enjoy the beautiful, peaceful Arkansas Bend but go slow and watch out!
If You Go
I think Arkansas Bend is best experienced by boat, but if you decide to go by land you'll find the Travis County Park on the north shore of Lake Travis near the city of Lago Vista.  It has two miles of shoreline and boat ramp.  On shore are several picnic and camping spots.  $10 for day use per vehicle.
Map the Park: 16900 Cherry Ln, Lago Vista, TX 78645
Note the park shoreside activities are closed until late 2018 for a major renovation project.  The coves and shorelines are still accessible to boats during this time.  
---
About the Author:  Steve Ward lives in Austin with his wife and daughter and enjoys sharing his love of sailing.  Steve owns SailATX a sailing charter co. on Lake Travis and is an active volunteer in youth sailing and a member of the Austin Yacht Club.  Email Steve at steve@sailATX.com or visit sailATX.com.